Creative Soul on breaking barriers in Canada's screen biz
Playback caught up with Creative Soul's Director X and Taj Critchlow following their talk at POV3rd St., which aims to get at-risk young adults involved in film and TV production.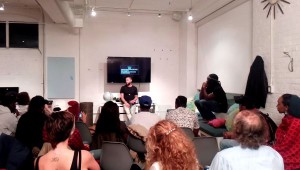 Director X and Taj Critchlow, who together run Toronto-based creative content firm Creative Soul, have produced music videos for the likes of Nicki Minaj, Jamie Foxx, Kendrick Lamar and, most recently, Drake's mega-viral "Hotline Bling" video.
However, when the duo are on set or at awards shows, they still find they are one of the few people of colour.
"I can't tell you the number of times X and I go to productions…and there are maybe one or two other people of colour. We still lack a lot of diversity, and there are a lot of kids out there who want to get into this industry, but a lot of times they may not know how to get in there, and then sometimes the opportunities aren't there," Critchlow told Playback Daily, after he and Director X (a.k.a. Julien Christian Lutz) spoke at an event run by Toronto-based charitable organization POV 3rd Street.
POV 3rd Street aims to help at-risk young adults get involved in the production industry via training and industry connections, establishing networks that may otherwise have not been accessible to them.
Those connections are particularly crucial when coming from a place where you are not otherwise given networking opportunities, X emphasized. Creating new connections also helps to overcome misconceptions people may have about youth who come from a certain neighbourhood or dress a certain way. "People need to meet each other. The key to knocking down all these barriers is that you have to actually interact," he told Playback Daily. 
During their talk at POV 3rd Street, X and Critchlow told the audience how they made their way into the industry, highlighting the importance of tapping into their passion to fuel the persistence needed to catch a break. X and Critchlow met while taking summer school courses in North Park High School in Brampton, and later worked together to manage a rap group made up of mutual friends. All the while, X was persistently pursuing famed music video director and producer Hype Williams, sending packages to his New York office, making phone calls and occasionally visiting.
He successfully persuaded Hype to take him on as an intern at Big Dog Films for a year, while Critchlow finished post-secondary school. The two reunited when X came back from New York, and then launched Creative Soul in May 2015. Throughout his experience, Director X said he benefited from the importance the industry puts on hard work and results, rather than credentials, which makes it an ideal place for people who may not yearn for a 9-to-5 lifestyle.
"It's what makes the film industry really special. No one asks you when you went to school, no one asks if you finished college or university. No one cares about anything except the work you do on set. The only thing that matters in your work effort and results," he said.
Critchlow and X's self-made story made them particularly good candidates to participate in POV 3rd Street program and its "Chat and Chill" events run for alumni, said Edie Weiss, co-founder of POV 3rd Street.
"We thought they were great is because X has a wonderful story, of not having anyone giving him opportunity – he created opportunity. And part of our mandate at POV is [exploring] how do you overcome those barriers when you come from the very bottom," Weiss said. "It is an inspiration to our students, because every one of our students is going to have to face that same situation, and those who can gain that kind of insight and knowledge from Taj and X are going to be that much more prepared."