DGC B.C. appoints new executive director
Kendrie Upton, who first joined the organization in 1986, will start her new role on March 1, 2016.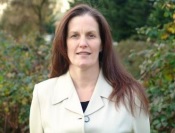 The Directors Guild of Canada, B.C. District Council (DGC B.C.) has appointed Kendrie Upton to the position of executive director of the organization.
Kendrie, who joined DGC B.C. as a member in 1986, specializes in locations management and became DGC B.C.'s locations manager in 1994, and later the locations caucus representative on the organization's executive board for 11 of the past 13 years.
As a locations manager Kendrie has worked on a number of productions including Watchmen, Tron 2, CBC's Arctic Air and A&E's Bates Motel. Kendrie is the daughter of former DGC national president Keith Cutler, who held the position from 1985 to 1986.
Kendrie will begin her new role on March 1, 2016.