Attraction takes sales rights to Considering Love and Other Magic
Montreal's Attraction Distribution will handle international sales for the upcoming feature starring Eric McCormack.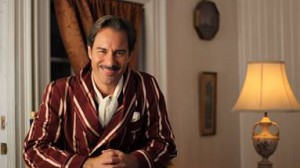 Montreal-based Attraction Distribution has taken the international sales rights to Dave Schultz's upcoming feature Considering Love and Other Magic.
The film, which was shot in Winnipeg this November, is expected to be finished by spring 2016 with the filmmakers aiming for an international premiere in Cannes. Considering Love and Other Magic stars Eric McCormack, alongside Sheila McCarthy, Maddie Phillips, Ryan Grantham and Rory J. Saper.
Schultz serves as writer, producer and director on the project, with Calgary's Interstate 80 Entertainment and Winnipeg's Buffalo Gal Pictures producing. Jeff Beesley and Joanne Levy serve as producers, with Phyllis Laing executive producing.
Northern Banner Releasing has the Canadian distribution rights to Considering Love and Other Magic. Financing for the $1.6 million film came from the Shaw Rocket Fund, Telefilm Canada, Manitoba Film and Music, the Alberta Media Fund and Super Channel.