Marc Glassman, Chelsea McMullan win DOC Institute awards
Glassman (pictured) and McMullan were honoured at the second annual DOC Institute Honours Awards, held at Toronto's Gladstone Hotel.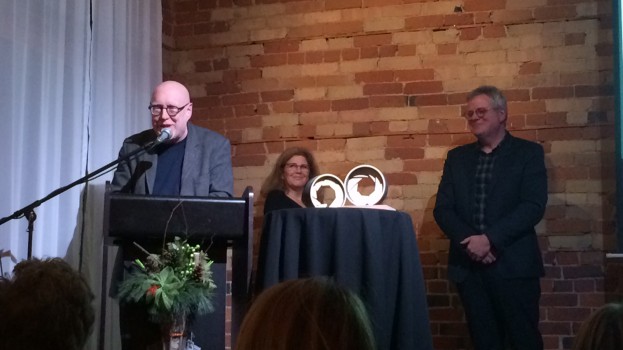 Marc Glassman and Chelsea McMullan both picked up honourary awards at the second annual DOC Institute Awards ceremony, held Thursday night at Toronto's Gladstone Hotel.
Glassman received the Rogers-DOC Luminary Award, a recognition of outstanding support and mentorship within the Canadian doc-making field, while McMullan won the DOC Vanguard Award, which recognizes emerging or mid-career documentarians with the potential to lead the next generation.
As the first film programmer for the Hot Docs International Documentary Festival and Reel Canada, Glassman is also an arts journalist, editor, film programmer, adjunct professor at Ryerson University's Documentary Media program and editor of Canadian doc publication POV Magazine.
McMullan is a doc-maker whose work has screened at the Toronto International Film Festival, Sundance and the New York Photography Festival. Her debut feature, My Prairie Home, is a music doc about gender-neutral singer/songwriter Rae Spoon, while her second feature Shannon Michael Shannon John screened at Vancouver International Film Festival.
Upon accepting the prize, Glassman dedicated the award to late documentarian Peter Wintonick, with whom he worked with at POV Magazine.
"In my mind, Peter Wintonick will always be the guiding light," said Glassman of the Montreal-based doc-maker, who passed away in 2013.
McMullan told the audience that being a young filmmaker was "a little scary right now" but noted the climate also allowed for great risk-taking in documentary.
"Take risks in both content and form because we have nothing to lose," said the director.
The DOC Institute is an initiative of the Documentary Organization of Canada, Toronto Chapter which develops and leads programs for doc-makers. The winners are selected by a jury from nominations submitted by the 650-member Documentary Organization of Canada. Elizabeth Klinck and Brett Story were the recipients of last year's awards.
Updated Dec. 11 2015