TIFF reveals Top Ten picks for 2015
Philippe Falardeau's My Internship in Canada and Alan Zweig's HURT (pictured) were among the titles chosen in the feature film category.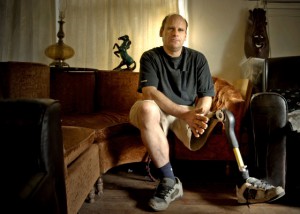 Toronto International Film Festival has named its Canada's Top Ten Film Festival lineup for 2015 with a list of festival favourites from new and established directors alike.
Stephen Dunn's Closet Monster, Alan Zweig's HURT and Philippe Falardeau's My Internship in Canada (Guibord s'en va-t-en guerre in French Canada) all made the feature film list.
Also named to the features lineup, which was announced at an event at the TIFF Bell Lightbox Tuesday evening, was Philippe Lesage's The Demons (Les démons), Anne Émond's Les êtres chers (Our Loved Ones), Guy Maddin and Evan Johnson's The Forbidden Room, Patrick Reed and Michelle Shephard's Guantanamo's Child: Omar Khadr, Patricia Rozema's Into the Forest, Mina Shum's Ninth Floor and Andrew Cividino's Sleeping Giant (Le géant endormi).
In the short films list, Nicolas Lévesque's Interview with a Free Man (Entrevue avec un homme libre), Ann Shin's My Enemy, My Brother and Guy Maddin, Evan Johnson and Galen Johnson's Bring Me the Head of Tim Horton were among the titles chosen.
Kyle McDonnell's Menesetung, Dan Laera's Pretty Dangerous and Katherine Grubb's Dysmorphia were among ten titles named on the short student films list.
This year's Top Ten event will run from Jan. 8 to 17, 2016 at the TIFF Bell Lightbox. New to the festival this year, select films will be screened simultaneously in Toronto, as well as at Vancouver's The Cinematheque and Montreal's PHI Centre where audience members will be able to ask questions to the filmmakers in Toronto through an interactive Q&A.
In addition to the film screenings, on Jan. 14 TIFF Industry is holding a series of sessions including Visual Concoctions: How Canadians are Blending Genres, Case Study: Creating the World of Room and Master Class: Exploring Virtual Reality with Secret Location. The 10-day event will also feature In Conversation With… Kiefer Sutherland, where Sutherland will join TIFF artistic director Cameron Bailey to discuss his career.