Programmer of the Year: Sally Catto
Amidst two years of CBC corporate drama, Catto and her team developed a raft of new edgy series for 2015, proving the pubcaster could deliver on its premium-programming promise.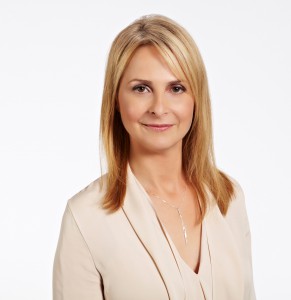 Sally Catto is beaming over reviews for the CBC's new fall shows.
These include This Life (Sphere Media Plus) – an adaptation of Quebec drama Nouvelle adresse, about a single mother facing a grim cancer prognosis – and Keeping Canada Alive (Force Four Entertainment), a six-part factual series tracking 24 hours at health and home care facilities in 24 Canadian cities. The Globe and Mail calls the former "touching, humorous and admirable" and the latter "scary and uplifting."
Seated in her seventh-floor office in CBC's downtown Toronto headquarters, the GM programming for CBC English television says reviews are useful – not only for a pat on the back, but because critics "go into detail about what they liked or didn't like about a show and what's resonating with them."
Then, of course, there are ratings. CBC has talked up a new direction since Catto's boss Heather Conway, EVP English services, was hired in late 2013. It's looking to offer something distinct from the private networks – mainly, shows with cable-TV edginess for a wider audience. And today the Ceeb can feel vindicated by numbers.
This year's crown jewel has been The Book of Negroes (Conquering Lion Pictures), an adaptation of Lawrence Hill's award-winning novel. The six-part miniseries averaged 1.6 million viewers last winter. (All numbers Numeris, InfoSys+TV, A2+ AMA.)
Yet Catto is quick to point out that eyeballs are not the only driver. She values feedback from ordinary Canadians, and got some at a recent public event where she and the filmmakers discussed The Book of Negroes.
"A gentleman in the audience asked, 'If The Book of Negroes doesn't do well, does that mean you won't be telling more stories like this?' It made me sad that he felt that. That's not what we're about. Numbers matter for certain programs, but they're not our only mark of success," she says.
"We have been encouraged to take risks, for which I'm very grateful," she adds, referring to directives from Conway. "We're juggling many variables. But I question whether anyone but the CBC would be exploring that kind of story. We need more [diverse stories], and we have projects in development that address that."
Of course, risks bring disappointments. Chief among those is Strange Empire (Janestown Productions), characterized as a "gritty, feminist Western" about women struggling for survival in 1860s Alberta. The series received strong notices but averaged only 308,000 viewers and was not renewed beyond its first season.
"I'm proud of it and of the risk we took, and I think [creator] Laurie Finstad-Knizhnik is brilliant," Catto says. "But taking risks is also about being prepared to say, 'We tried this and it's great, but other opportunities have come along that might resonate better with our audience.' Those are the not enjoyable times in my position."
Somewhere down the line, Catto will have to decide on This Life, which premiered on Oct. 5 to an underwhelming 280,000 viewers against CTV's Blindspot and Global's Chicago Fire, climbing to 295,000 in week two (All data Numeris, total, 2+).
Meanwhile, X Company (Temple Street Productions) – a fictionalized account of Camp X, the World War II commando training facility near Whitby, Ontario – bowed last season to an average 803,000 viewers and returns in the winter.
Catto sees it as a good fit because "It shines a light on a time in our country some people might not know about, and in a way that is different from how they have consumed that kind of information in the past."
A former lawyer and literary agent, Catto started in production at Accent Entertainment before being hired by CBC in 2001. Her stint as exec in charge of drama production extended to 2005, when she left CBC briefly, returning in 2006 as creative head of drama. She left once again in 2011 for an EVP position at Cineflix Studios but returned to the Ceeb in 2012.
She has overseen production on series including the period detective drama Murdoch Mysteries (Shaftesbury), which CBC began airing in 2013 after City dropped it, and has proven a brilliant pickup. It was the Ceeb's highest-rated weekly scripted series last season, averaging 1.2 million viewers.
Previously, Catto was the CBC exec in charge of Chris Haddock's Vancouver crime drama Intelligence (2006-07), which had ratings not commensurate with its rave reviews. But today, she notes, the series seems of a piece with popular serialized cable dramas. "Audiences are craving that kind of programming," she says. And so, she and CBC are once again banking on Haddock and his new spy thriller The Romeo Section. It got off to a tough start, with its first two episodes averaging 333,000 viewers (total, 2+).
Reflecting all of Canada, Catto says, is key: "When I'm watching The Romeo Section and I'm seeing Vancouver reflected and characters and storylines that are organic to that coast, I feel a connection that's very personal, and that makes it unique."
And the Alberta rural drama Heartland (Seven24 Films), another show she has shepherded, is back for its ninth go-round, giving te network a reliable Sunday 7 p.m. family hit that averaged 928,000 viewers last season.
In comedy, the riches-to-rags Schitt's Creek (Not a Real Company), created by and starring Eugene Levy and son Daniel and co-starring Catherine O'Hara, averaged more than one million viewers in its first season and returns in the new year. It is slated to again be followed on Tuesday nights by Mr. D (Topsail Entertainment), which averaged only half as many viewers. Still, Catto is bullish. "Not every show has to achieve the same goal," she says. "Every time I've met with Gerry outside this office, people have come up to us and said, 'Your show is the only show I watch with my kids.' That has value for us." It apparently also has value for CBS, which is developing a U.S. version.
CBC's recent successes have come amid cuts including a workforce being trimmed by about 25% by 2020, a property sell-off, and a 25% cut to its programming budget over the past three years, which, says Catto, has had ramifications. (However, the new the Liberal government promised to bump up funding.)
"We've been able to do less and you'll see more repeats," she says. "But there's a plan in place starting in 2015-16 that will see an increase in our programming budget every year for the next five years. Then we'll be back to where we were three years ago. So we're headed in a very positive direction."
This article originally appeared in Playback's Winter 2015-2016 edition