Best of the Year: Rhombus Media
Building new partnerships and focusing on first-time filmmakers helped to make 2015 a banner year for the 36-year-old prodco.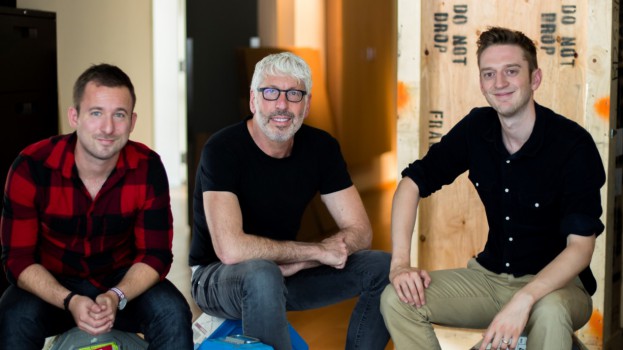 Roughly eight years ago, Rhombus Media principal Niv Fichman decided he wanted the prodco to focus on a new development strategy.
While continuing to pursue work with A-list Canadian directorial talent, Rhombus was going to focus on developing relationships with talented emerging filmmakers. This year, the dividends on that strategy have paid out significantly, with Rhombus bringing an astounding five projects to the 2015 Toronto International Film Festival.
"I think the slate at TIFF couldn't have been more reflective of that strategy," Fichman says. "There's a [Paul] Gross film, and a [Patricia] Rozema film, and two first-time films – one of them a coproduction – sprinkled with a Guy Maddin [project]. That is Rhombus."
Speaking with Playback this fall with Rhombus producers Kevin Krikst and Fraser Ash, Fichman points out the TIFF five-peat was more a product of lucky timing over shrewd strategy. But he allows the strong Rhombus brand and reputation is an asset in building the kind of slate the prodco brought to TIFF '15.
The festival was a success: Stephen Dunn's debut feature Closet Monster took the Best Canadian Feature award and Paul Gross' Hyena Road (complemented at TIFF by a Rhombus-produced installation by Guy Maddin) was feted with a gala premiere. And three of the projects that appeared at TIFF will be distributed by Elevation Pictures, which acquired them at script stage: Road, Rozema's Into the Forest and Brazil-Canada copro Zoom from rookie director Pedro Morelli. (The prodco also saw the second season of its HBO Canada dramedy, Sensitive Skin, go into production this summer, with its first season earning an International Emmy nom this fall.)
While Rhombus has always pursued a filmmaker-friendly approach, the unlikely seed of the enhanced first-time filmmaker focus was 2011′s Hobo with a Shotgun, which was not exactly the kind of project usually associated with the often-highbrow prodco. Initially concerned that the film wasn't a fit for Rhombus, Fichman quickly changed his mind when he saw how passionate rookie filmmakers Jason Eisener and Rob Cotterill were.
"That started a whole other trend," Fichman recalls. He then partnered with Alliance Atlantis to launch an unofficial initiative to support first-time filmmakers, and dedicated Rhombus' Telefilm performance envelope (a now-defunct program) to support projects from emerging artists.
Projects connected to that strategy include Hobo, Brandon Cronenberg's Antiviral, Closet Monster and Zoom. Now, Fichman says that emerging filmmaker focus is "our entire way of life," noting much of Rhombus' development slate, including films from In Her Place director Albert Shin, are projects from up-and-coming filmmakers.
"To me it's really crucial that we provide a really good home for talented young filmmakers, writers, directors, producers, and help make the film industry in this country stronger," he says.
It's a philosophy Fichman, and his partners before him, pursued internally as well. Krikst joined Rhombus in 2007, Ash in 2010 (following an internship in 2008), and both worked as assistants before producing. The shorthand the trio has developed over time has been invaluable, Ash says. "It's easy for us to take a decision on our own having been raised in the company by Niv and knowing how he would react."
Earlier this year, founding Rhombus partners Barbara Willis Sweete and Larry Weinstein departed the company, reducing the workforce to five and prompting a move to a smaller Toronto office. The compact company, however, has allowed the producers to be nimble and independent.
"It's partly an all-hands-on-deck thing. There is no saying, 'this is my function, you talk to him about this.' We're all there to help and problem-solve in any way that we can. Niv also trusts us a lot to just go with something…it empowers us," Krikst says.
Also key to Rhombus's big 2015 is the budding relationship between it and upstart distributor Elevation Pictures. The companies work together to develop projects that suit both, but Elevation co-president Noah Segal says the company can rely on Rhombus films to be high-quality, commercially viable and edgy.
"[Niv's] committed to making features and not shirking the responsibility to do something qualitative and different. That is what has made Rhombus stand out," Segal says. "Hyena is a huge budget film, Zoom is a crazy comedy, Closet Monster is an edgy subject from a new guy, Into the Forest is chance-taking from a seasoned director. All these things, very few producers would have the heart, or the nerve, to try. Niv can't just do it once a year – he did four in one year."
This article originally appeared in Playback's Winter 2015-2016 edition
Pictured from left to right: Kevin Krikst, Niv Fichman and Fraser Ash. Photo credit: Jennifer Horn