Smiley Guy's hockey-ballet holiday mashup set for CBC
The Toronto animation studio has produced a uniquely Canadian tale with universal themes for CBC's holiday lineup.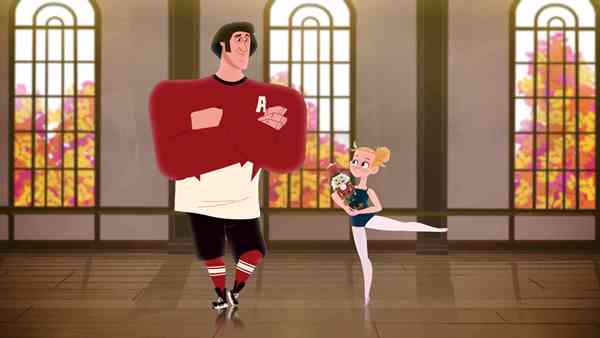 Smiley Guy Studios is getting into the holiday special spirit, with CBC set to bow The Curse of Clara: A Holiday Tale on Dec. 14.
The animated half-hour special was inspired by Vickie Fagan's autobiographical short story The Curse of Clara or My Big Fat Disappointment. Fagan and producer Veronica Tennant brought the project to Smiley Guy Studios, who then took it to the CBC and developed the short story into a half-hour special, executive producer Jonas Diamond told Playback Daily.
The Curse of Clara tells the story of a young girl named Vickie who is accepted into the National Ballet School and lands the part of Clara in The Nutcracker, and draws motivation from the 1972 Summit Series and her imaginary mentor Phil Esposito. The producers managed to get Esposito to lend his voice to the role, as well as enlist Hockey Night in Canada announcer Bob Cole to do a play-by-play of The Nutcracker for the special.
While the special has a uniquely Canadian spin, the producers are hopeful The Curse of Clara can strike a chord with global audiences as well.
"While it's obviously a story Canadians in particular can wrap their heads around, The Nutcracker is an annual Christmas event in many parts of the world – and hockey's pretty popular too," Diamond said. "Most importantly, the story of a kid with big dreams and equally big fears is something most people can relate to, so we're hoping it will resonate the world over. "
The special is currently being promoted as part of CBC's larger holiday programming marketing campaign, which includes on-air, radio, digital, print and out-of-home spots. The Curse of Clara will also have a dedicated on-air promo to run on CBC-TV, CBC News Network and the Documentary Channel leading up to its Dec. 14 bow at 7 p.m.  The special will also rebroadcast at 5:30 p.m. on Dec. 25.
Along with Cole and Esposito, other voice talent featured in The Curse of Clara include Sheila McCarthy, Sara Botsford, Saara Chaudry and ballerina Karen Kain. The special is produced by Smiley Guy Studios in association with the CBC, with the participation of the Canada Media Fund. Tennant, Fagan, Jeremy Diamond and Denny Silverthorne serve as producers. The Curse of Clara was co-written by Fagan and Jeremy Diamond, with M.R. Horhager and Mike Valiquette directing.