MsLabelled's broadcast debut comes with a twist
The Smokebomb series moves from web to Slice channel in a unique sponsored integration with a feature film.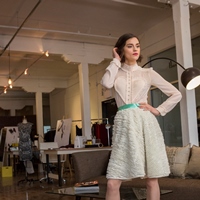 The perfect model for translating online success to linear ratings may still be in development, but Shaw Media is taking a shot at it for the broadcast premiere of web series MsLabelled.
The Smokebomb web series, which has aired two seasons online, will make its debut on broadcast on Saturday, Dec. 5 at 9 p.m. ET. However, the three 10-minute episodes will not be combined into one half-hour. Instead, the three eps will air in lieu of commercials during Slice's premiere of the feature film Pitch Perfect.
The execution was made possible by a sponsorship from Tata Global Beverages's Tetley tea brand, which was also a sponsor of MsLabelled's second season. Tetley's new Signature Collection of teas (in drawstring tea bags) was "tied in" with the show through a brand integration that saw characters participate in a challenge to create drawstring fashions. That integration was facilitated by Shaftesbury's internal agency, shift2 and the series overall was produced in association with Shaw Media. 
To date, season one and two online have garnered over one million views, according to Shaw Media figures that include total YouTube and Adobe Omniture Site Catalyst numbers.
Promotions for the integration are being aired on Slice through a 30-second Tetley/Slice ad (see below). In addition, sales bugs will appear on screen while the film is playing to remind viewers that they will be seeing MsLabelled instead of commercials. 
[iframe_youtube video="UEnWo74b5YE"]
This story was adapted from an original version that first appeared on Media in Canada, authored by Sonya Fatah