Bell Fund distributes $4.3M across 37 projects
The digital companions for Discovery Canada's Frontier and CHCH's Wynonna Earp (pictured) were selected to receive funding in the latest round.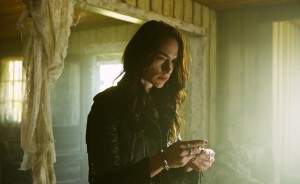 The Bell Fund has distributed $4.3 million across 37 projects and their corresponding digital media components, including CHCH's Wynonna Earp, Discovery Canada's Frontier and Fresh TV's Backstage.
The 37 projects to receive funding were selected from a total of 58 applications from English and French projects.
In the Bell Fund Production Program for English-language projects, the digital media component for Backstage is being done by Secret Location, which is creating an online extension of the show, revolving around a gossip-style online magazine. For Frontier, the digital part of the project is a responsive website, created by Switch United, which shows the backstory of the show's characters through 24 interconnected short films. Meanwhile, Wynonna Earp will be accompanied by a website which allows users to explore the history, relationships and characters of the story world, created by Digital Howard.
Other projects receiving funding in the category included The Wild Canadian Year (a website, created by Secret Location where users can experience 360-degree VR landscapes from across Canada) and HGTV Home to Win (an interactive online component created by Stitch Media where users can explore each room of the featured house and customize their own).
On the French language side, the four chosen projects were Productions Lustitia's Body Language 2, Manito Media's Canot Cocasse, Sardine Productions' ToonMarty and Prestigo Médias' Science ou Magie I (1-26).
In the low-budget program for English-language projects, Insight Productions' Big Brother Canada, Farmhouse Productions' Brojects: In The House and Nettie Wilds' Faultlines were among the projects to receive funding for their digital counterparts.
Kondolole Films' Ping Pong Interactives, DHX Media Vancouver and Nerd Corps' Inspector Gadget and Productions InformAction's Quartiers sous tension – Gentrification were the three projects to receive development funding.
Elsewhere, Le Rêve de Champlain was the sole project to receive Performance Accelerator funding, and Les Brutes was the only one to receive TV Development Online funding.
Click here for a full list of all 37 funding recipients.