TV, Peppa powering growth at eOne
The company's six-month results show robust performance in the company's TV and kids portfolios, with film performance down slightly year-over-year.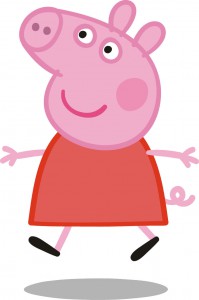 She may not look formidable with her curly tail and little red dress but Peppa Pig is powering serious growth for fast-rising Canadian entertainment company Entertainment One.
The company's six-month report showed the Peppa franchise, the producer of which eOne took controlling interest of in September, generated $1 billion in retail sales in financial 2015, in addition to over 200 broadcast and licensing deals closed in the period.
And Peppa has room to grow. eOne is targeting expansion of the franchise in China and South East Asia following the 2015 debut of the Peppa Pig TV series on China's CCTV and a merchandise launch with Toys R Us in China. A full digital, licensing and merch program in the region will roll out in 2016.
Also bolstering the kids side is new eOne property PJ Masks, which debuted in on Disney Channels in the U.S. this September to 1.6 million unique viewers and a 29% share of 2 to 5 year olds.
The TV side overall is driving growth at eOne. The company is reporting projected revenues of CAD $164 million (£81 million) for the first half of 2015, up 74% year-over-year and attributed to increased production and international sales. EBITDA was also up to CAD $15.6 million (£7.7 million) from $4.25 million (£2.1 million) year over year.
The company also increased its investment in programming acquisition this fiscal so far by $18.2 million (£9 million), and it has upped its production/acquisition of TV half-hours from 245 to 442 over the same period last year. Included in the total were 87 half-hours of programming from acquired prodcos Paperny Entertainment and Force Four Entertainment, and deliveries of new seasons of eOne series Rogue, Saving Hope and Hell on Wheels. EOne estimates that it will acquire or produce a further 1000 half-hours of programming in the remainder of the financial year.
The film side of eOne's business was down year-over-year, with 96 theatrical releases in the period compared to 134 the year prior. The drop was attributed to delayed theatrical releases in the first part of the year and the company expects to reach 210 releases by the end of the financial year.
"The first half of the financial year has seen very strong growth in eOne's television business and this has supported a robust set of results at the Group level, despite lower activity for the film business," said Darren Throop, CEO, eOne, in the report. "The Group's profitability has improved significantly, with our broad portfolio of entertainment assets continuing to protect the bottom line against the cyclical nature of the market. The strong growth in the Group's television activities provides greater balance to the Group's portfolio whilst enhancing the Group's mix of revenues towards higher-margin activities."