The Scott Brothers go big with 'tiny' series for HGTV U.S.
The Canadian producers have two digital series in production for the U.S. net, including Tiny House Arrest.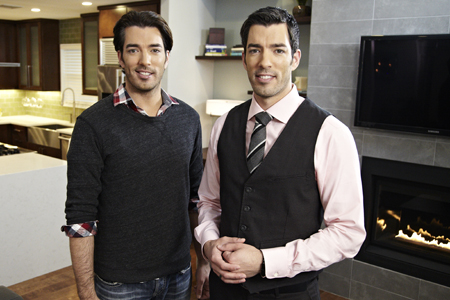 Canada's Scott Brothers are moving into the digital space in the U.S. with a "tiny" new digital series for HGTV.
The forthcoming digital series Tiny House Arrest will be unlike HGTV's current stable of programming dedicated to petite abodes – Tiny House Hunting, Tiny House Builders, Tiny Luxury and Tiny House, Big Living – in two not-so-tiny ways: each of the 30 episodes will range in length from two minutes to two-and-a-half minutes; and each five episode arc will be fronted by varying popular network personalities.
Produced by Scott Brothers Entertainment, the series will shadow some of HGTV's most sought-after talent as they cope with being locked away in miniature homes as small as 200 sq. ft. over a 24-hour period. The digital series will also see each celebrity host tasked with a number of space-planning challenges in an attempt to provide viewers with tips and tricks.
"Our talent are all experts in the home field, so we've been very vigilant about throwing in creative projects where you have this tiny house, but what would you do to make it feel a little bit more like home?" Scott Brun, VP of programming and alternative distribution at HGTV and DIY Network, told Playback sister publication realscreen.
While the majority of the debut season has yet to be completed, with the network currently ironing out logistics and time schedules, Tiny House Arrest's initial five-episode arc is set to focus on Property Brothers hosts and Scott Brothers Entertainment co-founders Jonathan and Drew Scott (pictured) – both standing at 6'5″ – as they conquer tiny house living. My Big Family Renovation's Jen and Brandon Hatmaker are set to follow in the second five-episode installment.
The series will feature six sets of celebrity hosts, who will front five episodes each. Each episode is expected to cover different parts of the host's day within the home, from first inspection to settling in.
"We do talk about the challenges of [tiny house living] because that's obvious, unless you're used to living in a New York City apartment," Brun jokes. "There are certain challenges [and] lifestyle things where you'd have to pare down on your shoe collection, closet or pots and pans.
"But we always come away with 'Yes, these are challenges but we can completely understand why people are so into this.'"
The digital series, which is slated to launch across HGTV's digital properties on New Year's Day (January 1), will be exec produced by Brun, Jonathan Scott and Drew Scott, with Christle Leonard set to produce.
In addition to Tiny House Arrest, Scripps Networks Interactive will be rolling out two additional short-form original unscripted titles across its HGTV and DIY Network digital channels.
The first will be The Scott Seat, premiering sometime in first quarter 2016. The digital series will provide the Property Brothers audience with the opportunity to ask series hosts Jonathan and Drew Scott anything they want, from real estate and home renovation advice to queries about relationships and recipes. "We set up a few of these in the New York area in late summer and we taped a couple, and they proved to be a ton of fun, so we're making a bunch of digital videos around it," Brun says.
From Realscreen