Los Cabos '15: Egoyan muses TV trends, Remember's 'last chance'
"I've come to think that the feature film is the short story," Egoyan mused at the Los Cabos International Film Festival. "And the TV series is clearly the novel."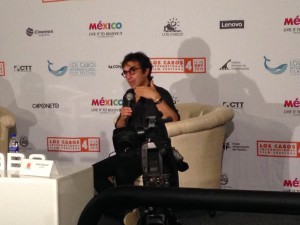 The attacks that rocked Paris Friday night had not yet occurred as Canadian filmmaker Atom Egoyan took the stage at the Los Cabos International Film Festival to discuss the Mexican premiere of his Holocaust-survivor-themed film Remember.
But with themes of violence, loss and justice that ricochet through his films can attest, it is surely a topic the provocative filmmaker would have addressed should the press conference taken place just a few hours later.
Egoyan was in Los Cabos, Mexico for the second year in a row to debut a film in the North American country, having been the subject of a tribute in 2014. Remember was in part selected for the festival due to its Mexican-Canadian heritage, born out of a production partnership between Mexico's Detalle Films and Canada's Serendipity Point Films.
In conversation with LCIFF director Alonso Aquilar, Egoyan said he felt it was "the last chance" to make a film like Remember, which follows a Holocaust survivor with dementia, played by Christopher Plummer, bent on revenge. As more and more WWII survivors start to pass away, he said, it soon would only be possible to do the story as a period film.
He hadn't intended to follow 2014′s The Captive so closely with another film but when Benjamin August's script came to him, he decided to do it but take a more straightforward approach than the non-linear format he traditionally pursues. 
That made it important to find the right production partners for the film, who understood both the film's creative ambition and were able to help take advantage of its more commercial approach.
"I've had good and bad experiences with financing partners, some people are doing it for all the wrong reasons but sometimes you find distributors who are really attached to the project…Detalle were so excited about the story."
Remember's Mexican debut following a Canadian theatrical release and fall festival circuit including TIFF, seemed to find the philosophically inclined filmmaker in a reflective mood about the state of feature film, and it's relationship to TV, the dominant medium of the moment and a subject of distinct focus at LCIFF.
Dropping a hint that a TV series might be in his future – "There's possibly a book…that would be a limited series instead of a feature" – he said he had been reflecting on the role of feature films with so much focus from both filmmakers and the public currently on TV.
"I've been thinking a lot about form, and thinking about what the audience is expecting from the feature film, what is audience expecting when they go to see a drama," he mused. "And if i was in my 20s I'm not sure I'd be making features or television."
It could happen. Egoyan entertainingly revealed that he directed a TV series pilot based on Friday the 13th early in his career, and also recounted HBO optioning his film The Adjustor as a TV series in 1992. It's a topic that's is clearly on the director's mind.
"What we're seeing with TV is you have these incredible showrunners… some of them say they wanted to make features but that that passion has dissipated. It's an extraordinary time of transition."