Letterkenny to premiere on Super Bowl Sunday
The series from New Metric Media will bow on CraveTV with a sneak-peek world premiere this November at the Canadian International Television Festival.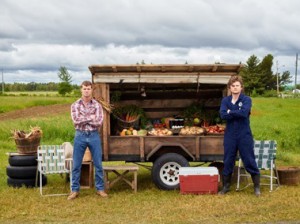 Bell Media has revealed the premiere details for its first CraveTV original series Letterkenny, from New Metric Media.
All episodes of the six-part, half-hour series will premiere on CraveTV on Feb. 7 (Super Bowl Sunday), a few weeks after the service goes wide to all Canadians in January 2016.
Letterkenny will then bow on The Comedy Network in the spring. Bell Media also announced Monday six new shorts will accompany each streamed episode of Letterkenny.
The world premiere of Letterkenny, however, will occur at this year's Canadian International Television Festival on Friday, Nov. 20. The festival will screen the series debut episode, Ain't No Reason to Get Excited, as well as host a panel discussion with creator, co-writer, star and executive producer Jared Keeso, and New Metric Media exec producers Patrick O'Sullivan and Mark Montefiore.
Letterkenny is based on Keeso's web series Letterkenny Problems, which has earned more than 10 million views on YouTube and received a 2014 Canadian Screen Award nominations for Best Web Series. Letterkenny is produced by New Metric Media in partnership with DHX Media and in association with Bell Media. The series received funding from the Canada Media Fund, the Northern Ontario Heritage Fund and tax credits. Jacob Tierney is executive producer, director and co-writer on Letterkenny.