Viceland channel brand comes to Canada
The TV channel will take over Rogers Media's bio channel licence on the dial.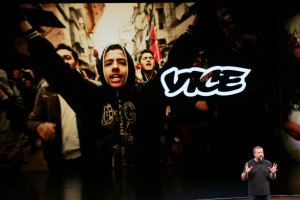 Following months of speculation around where, when and how Rogers and Vice would roll out the Canadian Vice TV channel, all has been revealed.
Following in A+E's footsteps stateside, Vice TV will launch under the Viceland brand in Canada. It will take over Rogers' bio channel licence, a natural fit given bio's current factual-focused nature and COL, but will be a distinct and independent entity.
Rogers and Vice also used the occasion to officially unveil their Toronto production facility.
Currently being cooked up at the facility are nine original series for Viceland Canada, referred to in the release as "Rogers-commissioned," which include documentary series Cyberwar and RISE, unscripted entertainment series Abandonment Issues, Dead Set on Life, Payday and Shroom Boom and pop-culture focused factual entertainment shows VICE Essentials Canada, VICE Guide to Comedy, and VICE Guide to Film.
Since October 2014 when the two entities formally announced a partnership, more than 100 content creators (writers, producers, editors and filmmakers) have been brought on board to develop Canadian content for the collaboration's multiplatform venture.
The partnership with Rogers Media aims at reaching the much-sought after millennial demo with content that goes beyond just entertainment, according to Rick Brace, president, Rogers Media. Viceland will produce content that also "reflects their values and views of the world," he said in a joint press release.
With files from Sonya Fatah, updated at 11:34 with programming details