Five takeaways from Playback Marketing Summit
A roundup of some of the key takeaways from Playback's inaugural marketing summit, held Thursday at The Bram & Bluma Appel Salon in Toronto.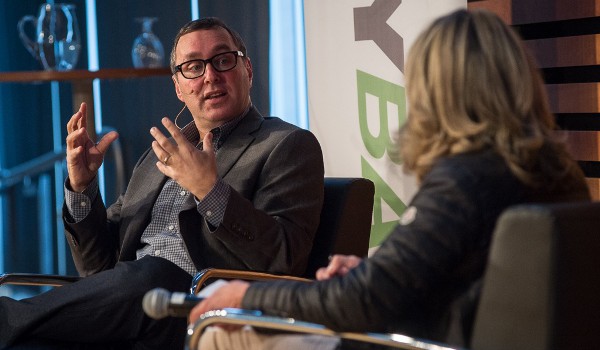 By Jordan Pinto and Julianna Cummins
Playback's inaugural Marketing Summit took place on Thursday, with attendees from the production and marketing industries on hand to hear insights from marketing professionals on how to best build buzz for upcoming projects (as well as how to do it on a budget). Here are some of the key takeaways from the day's talks. 
1. Attention spans are dwindling. Grab your audience and then build the relevance of your product to them.
Attention, said Laura Henderson, global head of content and media monetization at Mondelez International (the global snack and foods division of what was formerly Kraft Foods), is the single biggest problem faced by marketers today. Henderson cited a study in 2000 which found the average human's attention span is 12 seconds – today, that number has tumbled to just eight. This has presented a challenge for advertisers, who not only face a myriad of challenges in getting their ads seen (PVRs and online ad blockers, chiefly) but to get them to resonate at all in such a cluttered landscape. That has seen Mondelez reshape its approach to advertising and striving to develop and own original IP based on its brands. The unique aspect of their strategy – which broadly can be called content marketing – is to not only engage consumers but to build new revenue streams for the company. In short – they want to make content good enough that people will pay for it. And Henderson said on that front, they are open for business with production partners, who are ideally poised to create that level of quality content. Get those cookie ideas baking, producers!
2. Be savvy with your influencer strategy 
Communications agency North Strategic co-founder Mia Pearson discussed the increasingly robust opportunities for partnering with online influencers, but said the time has passed for a simple "please mention my product" strategy. She emphasized:
- Quality over quantity: strive to create an organic, genuinely entertaining/engaging content and promotion plan.
- Embrace collaboration: the new breed of online content creators expects to be in the driver's seat. Bring influencers in early, engage them in the process and trust that they know their audience better than you do!
- Invest in those relationships and extend the dialogue: One-off partnerships are not the way to go, and engaging with creators before, during and after a project hits the market is the best way to make a successful relationship.
3. Bake marketing into your TV show or film's DNA
Marketing, which used to be the job of the broadcaster, is now the content creator's role too. Marblemedia's Mark Bishop insisted series must be conceived from the very start as "full 360 degree projects." Using marblemedia's Open Heart as an example, Bishop discussed how both TV and digi teams were part of the entire process (complete with a digital producer in the writers room), allowing them to simultaneously launch a sophisticated online/mobile strategy alongside the series airing. Even more impressively, that strategy had to match the series' day and date broadcast with both U.S. and Canadian broadcasters. Bishop said the company was surprised at the end to see that the SMS aspect of the strategy – which saw fans receive text messages at the same time the character on screen did – was the most successful from an engagement standpoint and happily, was also the most economical.
4. Take a tip from Buzzfeed
During a session about how to create buzz on a budget, creative director and consultant Robin Heisey said producers could learn from Buzzfeed. The website is particularly good at creating highly shareable video that leverages the company's brand, while also tapping into issues people care about or are interested in. For example, a 2014 marketing campaign for The Walking Dead capitalized on people's broad interests in zombies by placing a "rotting finger countdown" display at Toronto's Union Station. A "rotting finger" was removed from the display each day leading up to the premiere of a new season of The Walking Dead. People were then invited to share photos of themselves with the display for a chance to win one of the rotting fingers. As such, he urged producers to think of creative ways they can leverage the storylines of their projects into marketing initiatives."The story in your marketing and the story on your screen is part of the same franchise," Heisey said.
5. Think as a brand – not a channel
Comedy Central CMO Walter Levitt, the day's closing keynote speaker, said the company decided a few years ago it would not see itself as a TV network. Rather, it has positioned itself as a comedy brand focused on a millennial audience, with content deployed across multiple platforms. "We are a comedy brand…everything we do is about taking that lens and applying it," Levitt said, adding that the network no longer refers to its "viewers" but rather its "fans." To target these millennial audiences, Levitt said Comedy Central gave its marketing strategy a relative overhaul with a focus on zoning in on specific audiences rather than mass marketing campaigns. For example, if a user accessed a particular series on Comedy Central's digital properties, the company would then try to target that consumer when a new season of that series is released.
"That is the amazing part about marketing in the entertainment business now. It's not cheaper necessarily, but you can get so specific and granular, but it should be way more effective," Levitt said.