Book of Negroes, Mommy win top prizes at DGC Awards
Vikings and Elephant Song were also among the projects that picked up trophies at the awards gala Saturday night. (The Book of Negroes pictured.)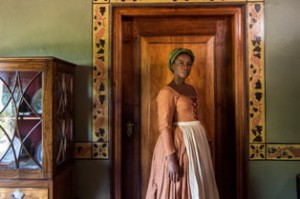 The 14th edition of the annual Directors Guild of Canada (DGC) awards took place on Saturday evening at The Carlu in Toronto, with Book of Negroes, Orphan Black and Mommy all picking up awards.
Nineteen prizes in total were presented at the gala on Saturday evening, which was hosted by Arisa Cox and Sean Cullen. The best direction prizes for a feature film, television movie/miniseries and TV series went respectively to Charles Binamé for Elephant Song, Clement Virgo for The Book of Negroes and Kari Skogland for Vikings episode "Blood Eagle."
On the TV front, the finale episode of Orphan Black season two ("By Means Which Have Never Yet Been Tried") won best TV drama, the first episode of Open Heart ("Last Things First") won best family TV episode and Schitt's Creek "Our Cup Runneth Over" won best TV comedy episode.
In the best feature award category, Mommy fought off competition from nominees Corner Gas: The Movie, Elephant Song and Relative Happiness to take home the top prize, while The Book of Negroes won best television movie/miniseries.
On the documentary side, the Allan King Award for Excellence in Documentary went to Super Duper Alice Cooper, and Made in Bali won the award for best short film.
In the best picture editing category, Michele Conroy won the feature prize for Pompeii, Don Cassidy won best TV series for Vikings episode "The Lord's Prayer" and Susan Shipton won the best television movie/miniseries prize for The Book of Negroes episode six.
As previously announced, the DGC also presented three special awards on Saturday night for outstanding contributions to Canadian screen production. Mark Reid took home the Don Haldane Distinguished Service Award, and Peter Leitch  was presented with The Honourary Life Member Award. David Cronenberg was presented with the Lifetime Achievement Award.
"While I am standing up here alone, there could be, or should be, masses of people behind me," Cronenberg told the audience at The Carlu as he accepted his award, which he dedicated to the DGC.