Raven Banner acquires I Am Thor
The Toronto-based indie has picked up the Canadian distribution rights to the USA/Canada/Finland/Sweden copro.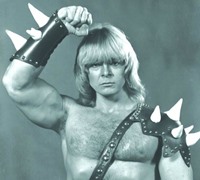 Raven Banner Entertainment has acquired the Canadian distribution rights to Ryan Wise's I Am Thor, a USA/Canada/Finland/Sweden copro.
The doc I Am Thor follows the life story of Jon Mikl Thor, a competitive bodybuilder who later became a metal superstar. I Am Thor is produced by Blue Lame 61 Productions, with Alan Higbee and Wise producing. Frank Meyer serves as associate producer.
Raven Banner also acquired the Canadian rights to Jason Lei Howden's Deathgasm, ahead of the films' closing night screening at the Toronto After Dark Film Festival. The New Zealand film is produced by Metalheads, MPI Media Group and Timpson Films.
Both titles will be released theatrically by Raven Banner. The deals for both films were negotiated by Raven Banner's Michael Paszt and James Fler, and MPI Media Group VP of sales Nicola Goelzhaeuser.