Deals: LaRue, HBO Canada, CraveTV, DHX Media
LaRue Entertainment's The Amazing Gayl Pile (pictured) gets picked up by new NBCUniversal comedy streaming service SeeSo, and more deals of the week.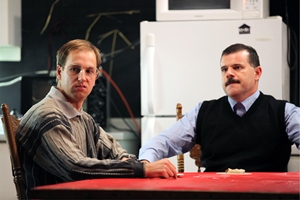 LaRue Entertainment
The Amazing Gayl Pile, a 10 x 15-minute scripted series from LaRue Entertainment, has been picked up by NBCUniversal's new comedy streaming service SeeSo.  The series, which stars and is executive produced by Morgan Waters and Brooks Gray, tells the story of a man's journey to conquer the world of home shopping. Other exec producers on the project include Matt King and Andrew Ferguson, who also produce the series alongside Trevor Duwyn and Brittany Stephen. Ad-free subscription service SeeSo is set to launch in January 2016. Other content to be featured on the service include Dan Harmon's HarmonQuest and catalog content such as The Office and The Kids in the Hall.
HBO Canada
HBO Canada has acquired the Canadian rights to Rock Icons, set to premiere on Nov. 1 at 10.30 p.m. The 10 x 30-minute documentary series is produced by Toronto's Banger Films and directed Sam Dunn and Scot McFadyen. Focusing on rock 'n' roll legends such as Slash, Def Leppard, Ted Nugent, Billy Corgan and Nikki Sixx, each episode explores the lives and stories behind the musicians. Tricon Films and Television distributes the series internationally.
CraveTV
Showtime's drama series Billions, starring Damian Lewis and Paul Giamatti, is set to land on CraveTV early next year soon after the streaming service becomes available to all Canadians. Premiering on the streaming service at 10 p.m. on Jan. 17, 2016, one episode of the show will air each week for the season's duration. Billions tells the story U.S. attorney Chuck Rhoades and Bobby Axelrod, set against the backdrop of power politics and finance in New York City.
DHX Media
DHX Media has secured broadcast deals with Australia's ABC Kids for two of its new flagship preschool shows, Teletubbies and Twirlywoos, and its consumer products arm DHX Brands has appointed Haven as Twirlywoos' licensing agent down under. Read more about the deal here.
In other DHX news this week, FremantleMedia Kids & Family Entertainment has added a number of new licensing agents to represent DHX's preschool series Kate & Mim-Mim. Read more about that deal here.