Chloe Robichaud's Pays books star lead, starts production
Emily VanCamp (pictured) has signed on to star in the second feature from the director, whose Sarah Prefers to Run enjoyed a hot festival run in 2013.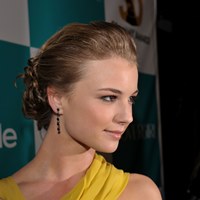 Production is underway in Montreal on Pays (Country), the second feature from director Chloe Robichaud, which will also feature scenes shot in Newfoundland.
After production is wrapped in Montreal, the shoot is expected to continue in Newfoundland in November. The producers also announced Wednesday that Emily VanCamp has signed to star in Pays in a bilingual role. VanCamp's previous credits include parts in the ABC series Revenge and Brothers and Sisters, as well as the role of Kate/Agent 13 in Marvel's Captain America film franchise.
Other cast attached to Pays include Macha Grenon, Nathalie Doummar, Yves Jacques, Alexandre Landry, Serge Houde, Sophie Faucher and Rémy Girard. The film is produced by Fanny-Laure Malo for La Boite a Fanny, Pierre Even and Marie-Claude Poulin for Item 7 and Barbara Dolan for Morag Loves Company. Pays will be distributed by Les Films Seville in Canada.
Robichaud's first feature, Sarah préfère la course (Sarah Prefers to Run), screened at the Cannes International Film festival and the Toronto International Film Festival in 2013.