The Bequest starts Georgian Bay shoot
The psychological thriller starring Shanae Grimes (pictured) is directed by Jeff Kopas, who co-wrote the script with Doug Taylor.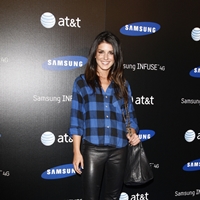 Production is underway on a private island in Georgian Bay near Britt, ON on the psychological thriller The Bequest, directed by Jeff Kopas.
The film tells the story of a young woman who returns to her family's island lodge to help her siblings care for their ailing father. Thanks to her expected inheritance, she is suspicious of her siblings and tries to keep her sanity after she is trapped on the island.
The script for The Bequest was co-written by Kopas and Doug Taylor. The film is produced by Ryan Reaney and Robert Budreau for Lumanity Productions and Kopas with his shingle Vitality Productions. David Anselmo and Marina Cordoni serve as executive producers.
Cast attached to The Bequest includes Shanae Grimes, Gil Bellows, Don McKellar, Rosemary Dunsmore and Natalie Brown. The film was privately financed, along with support from Super Channel and the Northern Ontario Heritage Fund.
Photo credit: Joe Seer / Shutterstock.com