Deals: Lionsgate, Arcana, Blue Ice, Peacock Alley
Lionsgate extends its distribution deal with France's Metropolitan Film Export, and more deals of the week. (Arcana's Howard Lovecraft and the Frozen Kingdom pictured.)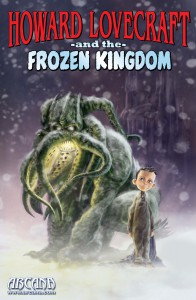 Lionsgate
Lionsgate has extended its output agreement with France's Metropolitan Film Export. Under the terms of the extended agreement, all Lionsgate films which begin production after Jan. 1, 2016 will be distributed by Metropolitan in France. Among the films included in the new deal are Saban's Power Rangers movie, and the Francis Lawrence-directed fantasy adventure, The Odyssey, and the recently announced multiplatform property The Kingkiller Chronicle. 
CraveTV
CraveTV has announced the launch of its "best of" collection, kicking things off with a top-20 Halloween episode countdown. Featuring shows spanning six decades, Crave's countdown will feature series such as South Park, Big Bang Theory, Twilight Zone and The Goldbergs. As part of its Sci-Fi & Fantasy collection, the subscription service will also offer Showtime's Penny Dreadful, Space's Bitten, as well as Salem, Teen Wolf and Deadbeat.
Arcana
Vancouver-based Arcanamation has inked a deal that will see California-based Shout! Factory handling North American distribution for the ani co's upcoming feature Howard Lovecraft and the Frozen Kingdom. Read more about the deal here.
9 Story Media Group
Mattel and its preschool subsidiary HIT Entertainment have inked a long-term partnership with Canadian producer 9 Story Media Group to relaunch the Barney & Friends and Angelina Ballerina preschool brands. Read more about the deal here.
Peacock Alley Entertainment
Sky Vision has signed on to represent 50 hours of factual programming from Peacock Alley Entertainment, in addition to inking an exclusive distribution deal on future programs from the Toronto-based producer. Read more about the deal here.
Blue Ice Docs
Toronto's Blue Ice Docs has picked up three titles for Canadian distribution, including The Missing Ingredient from Toronto-based filmmaker Michael Sparaga. Read more about the deal here.