Arcana inks distribution deal with Shout! Factory
The California-based distributor has acquired the North American rights to Arcana's Howard Lovecraft and the Frozen Kingdom, set for a 2016 release.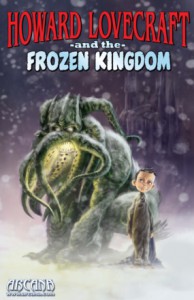 Vancouver-based Arcanamation has inked a deal that will see California-based Shout! Factory handling North American distribution for the ani co's upcoming feature Howard Lovecraft and the Frozen Kingdom.
In the U.S., Shout! will handle theatrical, broadcast, home entertainment and digital distribution. The company will handle the same windows for the Canadian market, except for broadcast, to which Super Channel holds the rights.
The deal between Arcana and Shout has been in the works since July's Comic-Con event, held in San Diego, Arcana CEO and founder Sean Patrick O'Reilly told Playback Daily.
Pre-production on the project began in May of this year, with production scheduled to be completed by the second quarter of 2016.
The feature, which is written, produced and directed by O'Reilly, is based on a graphic novel by Bruce Brown, which was in turn influenced by 1920s horror writer H. P. Lovecraft. Brown's novel is the first in a series of three, which O'Reilly hopes will eventually become an Arcana-helmed trilogy of films.
"Shout!Factory have already demonstrated their love for Lovecraft and have been an incredibly supportive partner so far," said O'Reilly.