Blackstone to end after season five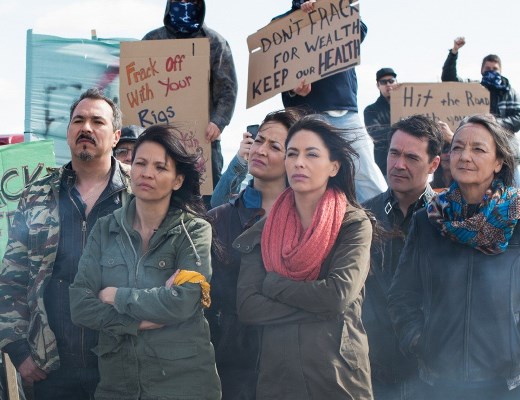 The final season of the Prairie Dog Film + Television drama will bow on APTN on Nov. 3.
Season five will be the last for the APTN drama Blackstone, produced by Edmonton-based Prairie Dog Film + Television.
Production on the eight-episode final season wrapped up this past June, and will bow on APTN on Tuesday, Nov. 3 at 10 p.m. The series finale will air on Dec. 22. The drama follows stories of corruption and power politics on a fictional First Nations reserve, with a cast that includes Carmen Moore, Eric Schweig, Michelle Thrush, Steven Cree Molison, Glen Gould, Jennifer Podemski and Tantoo Cardinal.
The decision to wrap up the series after season five was one the producers and broadcaster APTN made together, said creator, writer and executive producer Ron E. Scott.
"Five seasons are more than I could have imagined," Scott told Playback Daily. While he said its too early to say if the brand will ever reappear in new forms, such as a TV movie, he said he is open to new opportunities for the series if they arise and make sense creatively.
Prior to production starting on season five, Cineflix Rights picked up the worldwide rights to Blackstone via a deal with PPI Releasing. The series was also picked up by Hulu in the summer of 2014 for the U.S. market. It currently broadcasts on Maori Television in New Zealand and on SBS/NITV in Australia.
Blackstone was created by Ron E. Scott, who also serves as executive producer and writer on the series. Damon Vignale serves as writer and producer, with Jesse Szymanski co-executive producing. The series was produced by APTN and received financial support from the Canada Media Fund, the Alberta Media Fund and the Rogers Cable Network Fund, along with Canadian tax credits.