eOne buys controlling stake in Peppa Pig brand, producer
Entertainment One has co-owned the property with U.K.-based Astley Baker Davies since 2007.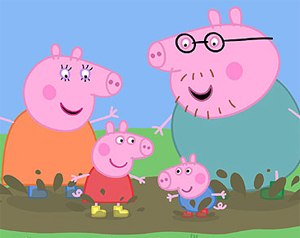 Entertainment One has inked a deal with Peppa Pig producer Astley Baker Davies to acquire 70% of the company, including its flagship IP, in a deal valued at £196 million ($284 million CAD).
eOne and the London-based animation studio have co-owned preschool property Peppa Pig since 2007. ABD's Mark Baker, Neville Astley and Phil Davies have produced over 200 episodes of Peppa Pig and will produce a further 52 in a coproduction agreement signed as part of the deal. Peppa airs in over 180 territories around the world and has over 700 licensing agreements that generate $1 billion (USD) in retail sales annually, according to eOne.
"Now the number one pre-school property in the U.K., Australia, Spain, Italy, Mexico and Brazil, and a leader in major territories around the world, the growth opportunities for Peppa are significant," said Darren Throop, president and CEO, eOne, in a release.
ABD also produces The Big Knights and Ben and Holly's Little Kingdom, both of which are distributed by eOne.
"[eOne] believes that there is a significant growth opportunity in the continued exploitation of Peppa Pig by entry into new markets, including continued expansion into the US, as well as further content and merchandising exploitation opportunities which the Group believes will yield a high cash flow conversion," the company stated in its filing to the London Stock Exchange.
This story was updated at 11:11 a.m. to reflect Entertainment One's purchase of a majority stake in ABD as well as the Peppa Pig brand.