Can't shrink the CBC to greatness: Lacroix
During its AGM the pubcaster's CEO noted that the company has reinvested in programming for the first time since 2009.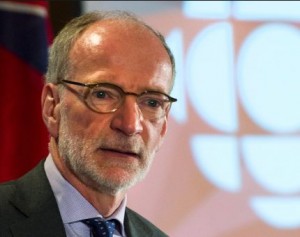 Hubert Lacroix, president and CEO at the CBC/Radio-Canada wants to know what Canadians want from the pubcaster.
During the CBC's annual general meeting held yesterday morning at the University of Winnipeg, he announced the need for a conversation around what people value.
On account of the upcoming election, the CBC's annual report hasn't yet been tabled in Parliament. However, Lacroix noted that expenses for the first quarter of 2015 were reduced by $105 million dollars, offsetting the $74 million drop in revenue that came largely from the loss of hockey.
Lacroix said that cost-saving measures are beginning to show results at the pubcaster, noting the CBC was able to reinvest $23 million into programming this year for the first time since 2009.
"A new revenue model is needed for the entire industry," said Lacroix, continuing softness in TV advertising. "We need a space where ideas and stories that make us Canadian, are shared."
Lacroix also said the previously announced shift of weeknight CBC News broadcasts from 90 minutes of local news in each market to 30- or 60-minute dinnertime programs will be introduced next week, with hourly news updates all evening.
Updating the audience on its Space for Us All 2020 plan, Lacroix said the pubcaster wants to double digital reach by that year. Part of that digital strategy was unveiled last week when the CBC announced a deal with MCN Fullscreen to create the CBC|Fullscreen Creator Network.
"We want to do more, not less," he says. "You can't shrink the public broadcaster to greatness."
Referencing his recent metaphor of public broadcasters as the boiling frog at the Public Broadcasters International Conference in Munich, Lacroix says it's his duty to let the public know about the CBC's predicament.
"That picture seems to have struck a chord," he says. "The point I was making is this one: We public broadcasters have been focusing on managing each crisis; each reduction in funding, each drop in revenue or ad dollars because that's what public institutions are expected to do. And, like the frog put in cold water that is slowly heated, we've resisted telling people that we risk being boiled to death."
- From Media in Canada