eOne, ICF Films expand partnership
Entertainment One has expanded its partnership with Ilana Frank's ICF Films (ICFF), announcing a three-year extension to the existing deal. (Saving Hope pictured.)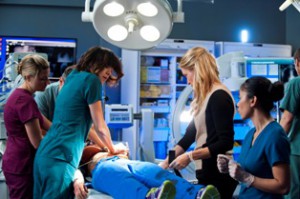 Entertainment One has expanded its partnership with Ilana Frank's ICF Films (ICFF), announcing a three-year extension to the existing deal.
Calling the new agreement an "overall deal" (compared to the previous first-look deal) the expanded partnership will see eOne serve as the studio for ICF Films, as well as being the deficit financier and distributor for the Toronto-based production company.
The two parties first partnered in 2008 on a first-look deal, which was subsequently renewed in 2012.
Rookie Blue, which saw its sixth season air on on Global earlier this year, was the first show to emerge from the partnership in 2008, with Saving Hope being the first project made under the 2012 agreement renewal.