Playback Canadian Film & TV Hall of Fame: Gordon Tootoosis
Playback's latest inductee in the Posthumous category is Tootoosis, whose on- and off-camera work helped shift perceptions and create a new dialogue for aboriginal actors in Canada.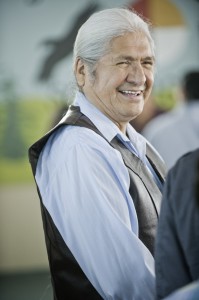 Gordon Tootoosis was many things throughout his career – actor, activist, politician, announcer, member of the Order of Canada – but to the Canadian film and TV industry, he will be remembered as a man who shifted perceptions and created a new dialogue for himself and the people he represented.
After starring in a recurring role in the Edmonton-based TV show Stoney Plain, Tootoosis, of Cree and Stoney descent, made his film debut in 1974 as the Cree fugitive Almighty Voice in Alien Thunder. This was the origin point of a career that spanned more than 40 film, TV and theatre roles in as many years. A versatile performer, equally adept on screen or stage, Tootoosis would become synonymous with the fight for a greater profile for aboriginal actors in Canada.
As narrator One Stab in Tristar Pictures' Legends of the Fall, duplicitous band chief Albert Golo in CBC's North of 60 and as the voice of Kekata in Pocahontas, Tootoosis put together a diverse body of work throughout his career, at the same time as confronting the injustices faced by his people through his fierce advocacy of aboriginal rights. His film credits include Castle Rock Entertainment's Alaska (starring Charlton Heston) and Buffalo Gal Pictures' Seven Times Lucky, as well as TV credits on The X-Files, Alliance Communications' Due South and CBC miniseries Big Bear.
Canadian actress Tantoo Cardinal – a 40-year collaborator of Tootoosis' and fellow Hall of Fame inductee – perhaps knew the "on-set" Tootoosis better than anyone. Cardinal, who appeared alongside him in the Oscar-winning Legends of the Fall, paints the picture of a man who, at work, was quick to lend support, educate people without preaching and who altered perceptions about what it meant to be an aboriginal performer. At the time, she emphasized, the roles up for grabs painted indigenous people as being "stoic and stupid."
"We trudged through all the bad stereotypes," she recalls. "And yet he carried himself with such dignity. Just by being himself he educated so many people."
Many of the roles and characters Tootoosis played were steeped in the history of his heritage. Nowhere was this more clearly reflected than in his portrayal of Cree chief Big Bear in the eponymously named miniseries. Big Bear died on the Poundmaker Reserve in Saskatchewan, the same reserve on which Tootoosis was born and raised.
Being one of only a handful of widely recognized aboriginal actors in Canada meant Tootoosis was offered a lot of work. However, he was extremely selective when choosing his roles, and if he felt the script did not correctly represent First Nations people, he would reject the role immediately.
In 2001, Tootoosis played a voice role on acclaimed stop-motion children's series Wapos Bay, which was voiced in both English and Cree and aired on APTN. Dennis Jackson, co-creator of the show, said Tootoosis' primary motivation for boarding the Karma Film's production was his desire to be a positive role model for his grandchildren, four of whom he raised with his wife Irene after they lost their daughter to cancer in 1997.
On-set, Tootoosis was extremely studious and dedicated huge amounts of time to understanding and developing his characters, said Jackson. "He always wanted to get further and deeper into his role…and know the history of the character he was playing."
Gordon's desire to give back to youth extended beyond his family: he and Cardinal also founded the Saskatchewan Native Theatre Company in 1999. Five years later, in October of 2004, he was named as a member of the Order of Canada for a career in which acting and activism were never exclusive endeavours.
In his final role, Tootoosis starred in APTN's Blackstone. The series is an unflinching look at the realities of life on First Nation reserves. Tootoosis was involved in the first season of the show, but sadly passed – aged 69 – two weeks before filming began on the series' follow up season.
Cardinal aptly summed up the professional career of a man who dared to forge his own path in a time when many obstacles impeded him: "To work with him, he was very respectful, he was a wealth of new ideas and perceptions, he liked to have fun, he always did his homework and he was always early – not on time!"