Why Muse is zoning in on mystery MOWs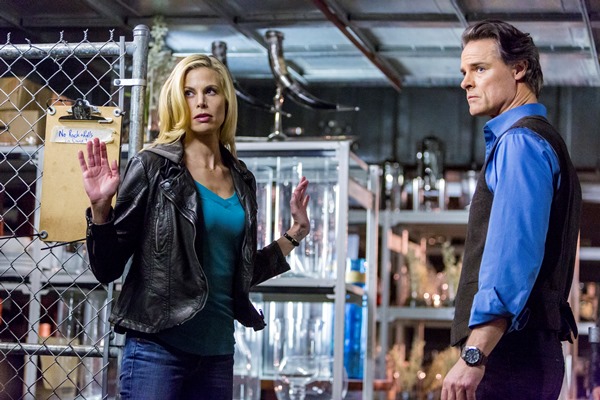 Muse has found a niche with TV movies "for people who want to turn on a show and know at the end they're not going to feel miserable," says CEO Michael Prupas. (The Gourmet Detective Mysteries pictured.)
Last week, Muse Distribution International, the distribution arm of Montreal's Muse Entertainment, announced it had sold its "light mystery" MOW wheels into approximately 85 territories ahead of MIPCOM. These latest international sales were announced after the company received renewals for two of its mystery movie wheels and a greenlight for a third, which will see Muse produce seven to 10 new MOWs next year.
"There is an interesting market niche that is developing in a pretty counter-intuitive way," Muse Entertainment CEO Michael Prupas told Playback Daily. "This is not hip, cool, millennial programming. It is not for people who like to watch things on the internet. It is for people who want to turn on a show and know at the end they are not going to feel miserable."
Three new The Aurora Teagarden Mysteries movies will go to lens next year, along with four Lost Letter Mysteries MOWs and two new MOWs based on the novels of New York Times best-selling mystery writer Sandra Brown. Hallmark Channel is the U.S. broadcaster attached to the Aurora Teagarden, Lost Letter Mysteries and the Sandra Brown reels, which also aired previous editions of the Aurora Teagarden and Lost Letter reels.
While the MOWs are not booked with any Canadian broadcasters yet, previous reels of The Aurora Teagarden Mysteries were presold to Corus Media and Bell Media, with Lost Letter Mysteries also presold to Bell Media. A fourth reel, The Gourmet Detective Mysteries, was earlier licensed by Hallmark and presold to Super Channel in English and Bell Media in French.
Prupas attributed broadcaster interest in the mystery movie reels to solid ratings, and noted the projects are primarily targeted towards a 25-to-54, female-skewing audience. In the past, movies in this "women in jeopardy" genre generally did well in France, Spain, Italy and Eastern Europe, but market demand seems to have grown internationally.
"What we have found is that we are able to sell these movies to all those territories, plus to England and to Germany and to Australia and to Singapore," Prupas said. As such, Muse has closed deals for Aurora Teagarden and Gourmet Detective movies with NBCU's Movies 24 (U.K.), Channel 5 (U.K.), M6 (France), RTBF, NBCU's 13th Street (Australia), NBCU's Diva Universal (Asia) and Digiturk (Turkey). Lost Letter Mysteries, meanwhile, has sold throughout Europe, Latin America, Brazil, Taiwan and the Philippines.
The MOWs are all considered Canadian content productions, Prupas said, and have primarily been shot in British Columbia. While Prupas admitted he's not sure how well these movies will play out in the digital window, they would perform well as older audiences get more accustomed to watching content online.
Photo credit: Copyright 2015 Crown Media United States, LLC/Photographer: Bettina Strauss