Key partnerships help bring La Guerre des Tuques 3D to life
CarpeDiem's Marie-Claude Beauchamp on remaking a Quebec cinema classic, partnering with Natrel and landing Celine Dion for the film's soundtrack.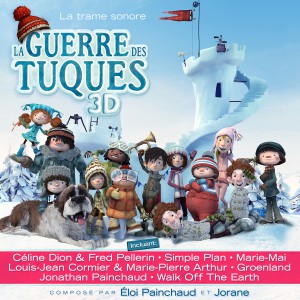 CarpeDiem Film and TV president Marie-Claude Beauchamp's team laughed at her when she told them she would get Celine Dion to sing on the soundtrack of La Guerre des Tuques 3D (which will be released in English Canada as Snowtime!).
But with Dion's track now recorded, Natrel attached as a sponsor and the film set to open theatrically in Quebec on Nov. 13, the $12 million animated feature – a remake of the 1984 Quebec cinema classic of the same name – has come together almost exactly the way Beauchamp hoped.
Playback Canadian Film and Television Hall of Fame inductee Rock Demers - a producer on the original, live-action version of the feature – approached CarpeDiem in 2009 about the possibility of remaking the film. It was the 25th anniversary of the film's release and Demurs had received a petition with 11,000 names requesting a remake. Demers, feeling the live-action film was too well-remembered by its audience, told CarpeDiem that he thought the characters needed to be recast in animated form. Montreal's Singing Frog Studio was assigned the task of handling the animation.
Financing the film took three years, but with funding in place from the CMF, Harold Greenberg Fund, Bell Fund, as well as a $2 million distribution advance from TAJJ Media and funding from milk brand Natrel, production got underway in mid-2013.
Directed by Jean-François Pouliot in collaboration with François Brisson, the film was in production for two years, with Dion's involvement being secured earlier this year.
"Making a film isn't just making a film anymore – it's making a brand. And I knew that a great soundtrack would be support to that," Beauchamps told Playback Daily.
The soundtrack's composers, Éloi Painchaud and renowned Quebecois cellist Jorane, had a contact who was able to put them in touch with Celine Dion's representatives at Sony Music Canada. The song they penned – "Hymne" – was sent along with a proposal that included a duet with former Dion collaborator Fred Pellerin on the French-language version and a solo on the English side. About 10 days later, Dion's representatives at Sony contacted the production team, giving the proposal the thumbs up. Both parties then met to discuss their vision for the song.
Beauchamp and her team also knew that attaching a like-minded brand to the project would further the promotional opportunities available. As such, Montreal-based dairy company Natrel will also be doing a series of outdoor events this winter in support of the film, as well as advertising La Guerre on its packaging. The aim of the campaign with Natrel, said Beauchamp, is to get children playing outdoors, as the entire film is set outside, though the specifics of the events and promotions will be announced at a later date.
The film is being distributed in Canada by Les Films Seville/eOne and is produced by CarpeDiem Film and TV in collaboration with Studio Singing Frog. The animation stars Sophie Cadieux, Anne Casabonne, Hélène Bourgeois Leclerc , Catherine Trudeau, Gildor Roy and André Sauvé.
Executive producers on the feature are Singing Frog's Normand Thauvette and Paul Risacher, Seville's Patrick Roy, TAJJ Media's Jeff Sackman and Beauchamp, who also produces alongside associate producer Demers.
An official release date for the soundtrack has not been set, but it it is scheduled to get its Quebec release in October, ahead of the film's Nov. 13 theatrical opening in Quebec.