TIFF '15: Showrunning in the golden age of TV
A panel of showrunners, including Tassie Cameron and Jennifer Holness, talk about the craft and business of TV on the last day of the TIFF Industry conference.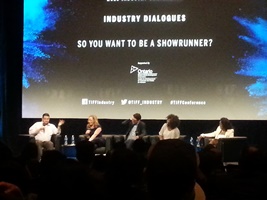 While viewers get to lap up the Golden Age of TV from their sofas, the Golden Age for showrunners is one in which networks are more willing to let "showrunners run shows and writers write," said The Knick creator Jack Amiel during a panel at TIFF on Thursday.
"I think the reins have come off at a lot of places like…FX, USA. The executives I know there really are letting showrunners run shows and writers write and seeing what they get," Amiel said. "When you let someone focus their energies and let it come through them, you're going to get stuff you would never get otherwise."
The panel, "So You Want to be a Showrunner?" also included Shoot the Messenger co-creator Jennifer Holness, Rookie Blue creator Tassie Cameron and Mr. Robot creator Sam Esmail, touched upon a wide range of subjects relating to showrunning, including the creative process and individual approaches to the job. During the panel, Amiel also noted the "golden age of television" the industry is currently experiencing has been somewhat bolstered by the disappearance of mid-budget Hollywood movies – and the talent shift that has accompanied it. "I think we have heard this a lot, but those writers and directors are now taking to TV. The economics just favour television now," Amiel said.
But just because the current environment favours showrunners, Cameron noted the onus is on the creator too to ensure their vision melds with the broadcasters.
"It was very important those networks were aligned with what we were doing," she said of bringing Rookie Blue to Global TV. "We made a bunch of rules before we started. We wanted to go from the point of view from our police officers, this is the kind of tone we want to achieve. And we made everyone sign off. In my very first notes call on Flashpoint with CBS, there were 32, 33 network executives on the phone and it was really, really challenging.  With this one I really wanted to make sure everyone knew what we were doing from the beginning so we didn't have 32 conflicting visions."
Holness also touched upon her own transition from feature films to television, and noted TV requires creators be much more cognizant of potential audiences. As such, Holness noted in a post-panel interview with Playback that she wanted to make sure Shoot the Messenger would travel well abroad. When Shoot the Messenger was still in development, she talked up the series at international markets such as MIPTV. Once she got the greenlight from CBC, she went back to those contacts and eventually landed a distribution deal with ITV.
"This is the golden age of television. I am watching TV from all over the world. I want to make something that (people) from all over the world will see," Holness said. "We are not trying to make TV for just a Canadian audience. We want a global audience for our work."