CWFA looks to spark Canada-China feature copros
Cinespace's Jim Mirkopoulos on chairing the new China-West Filmmakers Alliance and what the organization, which co-presented this year's Asian Film Summit, hopes to achieve.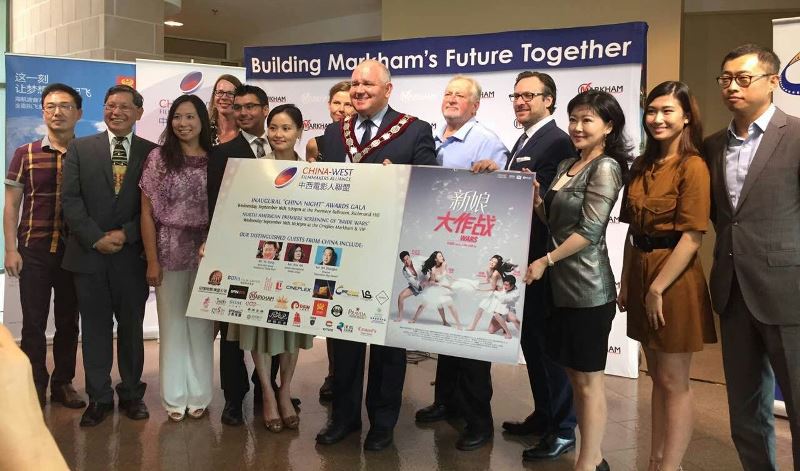 While Cinespace Studios currently has a high volume of television series booked – to the point where it needs to turn some projects down – the company's VP Jim Mirkopoulos says there have been a dearth of feature films shooting in his facilities as of late.
"What we have seen happen over the last number of years with the 'Netflix-ization' of the industry, [is] a lot of our business go episodic. We have not seen as robust levels of feature film production in our facilities. Even only a few years ago, we had three coproductions in a row (Resident Evil, Mortal Instruments and Pompeii) shoot out of our facilities," Mirkopoulos told Playback Daily.
"Why not have a bigger slate of coproductions to get made in Toronto? It just makes good business sense," he added.
As such, when Mirkopoulos was approached about joining the China-West Filmmakers Alliance (CWFA), he was keen to participate, to help up the number of feature films being booked into his studios. The not-for-profit organization, launched this June, is made up of filmmakers and other industry players from China and Western countries.
Mirkopoulos serves as chair of the CWFA with Crystine Zhang, co-owner of Visioneering Films, serving as co-chair (Zhang is also a partner in 3D International Media Partners, a company specializing in 3D entertainment owned by Bill White, formerly of William F. White). One of the CWFA's first big moves was to co-present this year's Asian Film Summit at the TIFF Industry conference. On Wednesday evening, CWFA is hosting a China Night Awards and Gala, which will celebrate coproduction between China and the West.
The mandate of the CWFA is to bring together companies interested in making films for Chinese and North American audiences, with the ultimate goal of facilitate more coproduction opportunities between China, Canada and other North American countries. While there has been a demonstrated appetite for big tentpole China/USA copros with films like Transformers and Mission Impossible, the CWFA aims to explore how the China-Canada coproduction treaty can be used to facilitate films at more sustainable budget levels.
"The general feeling is that real players do exist, and the reason we established this organization is to find the real players, make sure they are aware of the very lucrative and helpful coproduction treaty that exists in Canada, get [them] to the table and start making films," Mirkopoulos said.
While getting Chinese coproductions off the ground has proven complex for Canadians, Mirkopoulos said the CWFA aims to make sure it can connect Canadians and other North American players to partners who are serious about getting projects to camera. He noted that one of Cinespace's top clients, NBCUniversal, recently signed a mutli-year licensing deal with China's Alibaba Entertainment. Today, DHX announced it has sold 2500 half-hours of content to Alibaba as well, including such classic Canadian kids titles as Caillou.
"Real players are doing deals in China…to dispel the air of caution, we need real movies to be made and real players to step up to the plate and for real movies to happen," Mirkopoulos said.
At the TIFF Asian Film Summit on Tuesday, Robert Carney, VP of international sales at FilmNation, said during a panel the current political climate in China lends itself well to coproductions and foreign partnerships. "There is a mandate or at least a desire on the part of the authorities to promote Chinese movies that do travel outside of China. Until now there has not been Chinese movies that have performed outside of greater China. But there is a strong interest in doing that," Carney said.
"That's where I think there is an opportunity for foreigners like ourselves to partner with Chinese companies to produce those types of movies, to help them to understand  what the rest of the world wants to see in films and storytelling."