IFF '15: A decade of cross-border matchmaking
Three producers on their 2015 IFF projects, plus Jan Nathanson and James Weyman on the International Financing Forum's 10th anniversary.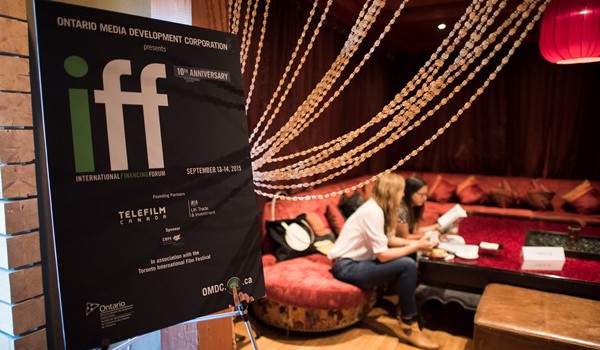 The first International Financing Forum, held in 2005, featured a number of information sessions and panels – an element that IFF producer Jan Nathanson did away with once she joined the event's planning committee in year two.
"Producers at a certain level who are looking for financing really just want to meet other people who potentially have money," Nathanson put it plainly to Playback Daily during the lunch break of the 10th edition of the IFF, held at Spice Route on King Street.
Along with one brief opening panel, the IFF now facilitates between 800 to 1,000 meetings between producers with yet-to-be-shot projects and potential funders, distributors and sales agents. The forum was initially launched as a way to fill a gap at the Toronto International Film Festival, which, unlike other high-end festivals, had no industry hub where producers could pitch their upcoming projects, said James Weyman, manager of industry relations at the OMDC.
While Weyman said he has toyed with the idea of expanding the IFF to encompass digital media and television, the current organizers find the hyper-focus on business-to-business meetings about feature film projects seems to work best. Over the years, the IFF has also become a "canary in the coal mine" of sorts for market trends, Nathanson said. She noted there is currently an appetite in the marketplace for high-end genre, which she characterized as more sophisticated genre films that aren't headed for a straight-to-DVD release.
"People are looking for the sort of things FilmNation is making…that are smart, but have suspense element or thriller elements, but it is going to attract a much higher director and/or cast to it. We're just starting to see the shift," Nathanson said.
At this year's edition of the IFF, which wrapped up Monday, Playback caught up with some Canadian and international producers about the projects they brought to the forum, and what they're looking for in terms of producing partners, distributors or sales agents.
Baseballissimo
For four years, A71 Productions has been trying to get cameras rolling on Baseballissimo, an adaptation of a David Bindi-penned book by the same name. President David Miller brought an early Baseballissimo concept to IFF several years ago when Jay Baruchel first signed onto the film as a writer. Since then, he's secured Jacob Tierney as a director, cast Anton Yelchin in the lead role and structured the film as a coproduction with Italy with De Angelis Media Group. Miller was at IFF this year to find a sales agent for the film that is willing to shop a baseball movie abroad.
"There are a bunch of people who will say sports films don't travel; baseball is more for the U.S. It is usually true, but this film is a romantic comedy in the end – it is a love letter to Italy, it is a love letter to the culture and to baseball. We are looking for someone who has the knowledge to make sure they can penetrate the U.S. market, which we will be very aggressive on, but someone who can take this kind of movie and make sure it hits all the territories," Miller said.
Molly
Christopher Sheppard, founder of London-based Adventure Pictures, was at IFF for the first time to find Canadian partners for his drama Molly, which he wants to structure as a U.K./Canada coproduction. While Sheppard declined to disclose which Canadian producers he had met with, he said he was ideally looking for a partner who has experience working with European producers. He also met with Canadian distributors Entertainment One and Mongrel Media, but noted he was also looking to make casual connections by just being there. "For me, an event like this is as much about the chance encounters. You're not quite sure who you are going to meet – it's not that targeted, necessarily. It could be about meeting someone and making that relationship…that may be relevant later down the line," Sheppard said.
Clear Blue
Paula Devonshire and Lindsay MacKay brought Clear Blue to IFF, a feature based on a short of the same name that won MacKay a College Television Award (the Student Emmy). Devonshire said the universal themes in the story means it could work well as a coproduction, an option the team was exploring at IFF. "It could be shot in Canada, but could also be shot in Ireland or the U.K.," Devonshire said. On the financing side, Devonshire said the duo was approached by Kickstarter, who indicated the project could be interesting for a crowdfunding campaign because the short had so much press behind it. Devonshire said she believes the fact that the project is entirely female-backed is likely driving interest, and the timing of IFF 2015 worked in the producer's favour.  "It's always nice to have the right time to pitch your film. We had Wet Bum last year and it screened at so many festivals and it's being released theatrically in the U.S. in two weeks," Devonshire said.
Photo credit: Arthur Mola