TIFF '15: Industry talks talent, pirates and high-heeled shoes
A roundup of panel highlights from the first half of the festival's Industry Conference.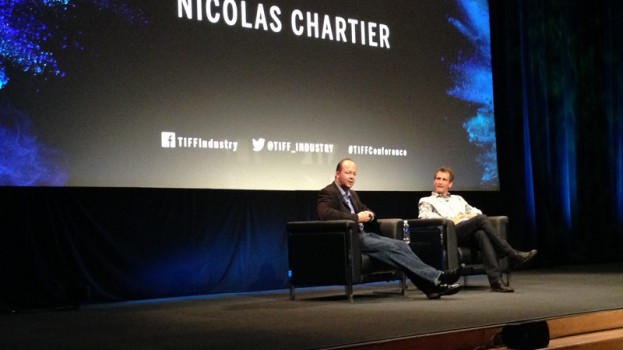 Unseasonable temps and late nights cause you to miss a panel or two this weekend? Playback takes a spin through highlights from panels and presentations that took place over the first weekend of the 40th edition of the Toronto International Film Festival.
From Micro to Medio
The opportunity for indie feature film producers in the mid-budget marketplace was the topic debated at Saturday's "From Micro to Medio" panel in the TIFF Industry Centre. The consensus? If you need presales to finance your film, you need cast. And given new agency models and the rise of talent-stealing premium TV, the chances of landing name-brand talent are getting slimmer by the day. So, although there is a "huge vacuum in the [$10-$30 million] film space right now" keeping your budget as low as possible – and making the tough choices to get it there- has never been more important, the panel argued. Filmmakers looking to lock pre-sales and step up their budgets might want to consider working with agencies on increasingly popular packaging deals, Robert Jones, co-managing director, Fyzz Facility, told the producer-heavy crowd. "More and more, agents hold the cards in the game," he said, noting that agencies are looking to monetize more than just single contracts for a film and booking single talent deals is getting harder. "If you set up a packaging deal, you pay the feel and it just becomes another line item in the budget," he recommended. "Then they work with you."
Moguls: Nicolas Chartier
For audience members steaming out of the micro-budget-focused previous panel, Voltage Pictures' Nicolas Chartier'a claim "Movies are not a question of budget – there's lots of money out there – it's a question of value" was either a welcome relief or further cause for concern. The famous producer and anti-piracy crusader stressed value to audiences as a key aspect of his script/film selection process, which averages about 10 films a year over its finance, production and distribution divisions. The one-time Euro-Disney janitor turned indie film producer roared out of the gate in 2010 with his first Voltage film, The Hurt Locker, which went on to win an Oscar for Best Picture. His eclectic slate since has included as wide-ranging films as Killer Joe and Don Jon. But, he admonished, if piracy persists, then the mid-budget films for which his company has become famous for will disappear: "You cant take risks and do films like Dallas Buyers Club if you don't have a business model," he said, calling on the industry to work harder to prevent piracy and noting specifically that "people don't pirate video games" (due to tech-based anti-theft tools).
How to speak the language of film financiers
During Saturday's "How to Speak Finance-ese" discussion, the filmmakers in attendance were given the chance to deliver a 10-second pitch to a panel of four film financiers. A few of the key takeaways from the talk  echoed sentiments expressed by other panelists of the day – there's no shortage of money, casting is very important to some investors, and financiers don't always want to hear the word "cheap." "The scarce commodity in our world is talent, it's not money. There's actually a lot of money out there…what I'm trying to do is find exceptional talent that I can bring into the world and bring their films into the world," said Ed Guiney, company director, Element Pictures. Financiers will  also often be willing to increase their investment in order to secure additional talent. A strong a cast list is extremely attractive to some financiers who will usually be willing to dig deeper into their pockets if it means a surer return on their investment, said Charles King, founder and CEO, Macro.
Data-driven content development
How much can, or should data influence creative decisions? Jay Bennett, VP digital and creative director at Smokebomb, walked the industry audience through his digital-focused prodco's creative process, which includes scraping social media for hashtags or trends around a specific topic to identify a hyper-specific audience. Based on that data, Bennett said he'll think of making a show for an audience as small as 2,000 people, "because in the vast sea of the multi-billion viewer universe of the internet" the actual audience is likely much larger than that. With a series like MsLabelled, Bennett said, the prodco may have made a misstep by creating a show broadly about fashion, rather than zoning in on a specific element – or item – of fashion. "It's like doing an office workplace comedy – who is that for? We should have done a show about yellow high-heeled shoes," Bennett said.
Piers on the new Platform panel 
Also on Friday, TIFF CEO and director Piers Handling moderated a panel featuring the jury of the inaugural Platform program, which consists of Chinese filmmaker Jia Zhang-ke, French film director and writer Claire Denis and Polish TV director and screenwriter Agnieszka Holland. The only documentary – and Canadian project – in the program is HURT, from Toronto-based filmmaker Alan Zweig. Handling said the decision to include the film was based purely on the fact the film "jazzed" the programming selection team, rather than feeling any inclination to include a doc in the lineup. "It really struck us. It was so strong, so eccentric, provocative, and asked a lot of really interesting questions around celebrity, especially in this day and age," he noted.