Brojects heads indoors for spinoff series
Brojects: In The House will premiere on Cottage Life next year.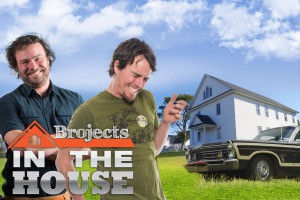 A spinoff of Cottage Life's DIY series Brojects will premiere on the Blue Ant Media channel in spring 2016.
Entitled Brojects: In The House, the new 13 x 30-minute series will focus its attentions on innovative indoor constructions, such as an indoor skate park, a retractable sleeping area and an indoor outhouse.
The Farmhouse Productions show will be filmed in Nova Scotia, though this time in the 500-person town of Great Village. The first two seasons of the original Brojects series were shot in Antigonish, NS.
Hosted by Andrew and Kevin Buckles, the spinoff will see the "bros" attempting to transform a Masonic Lodge into the perfect indoor hangout spot.
Production on the new episodes began in late June and the Toronto-based Farmhouse will shoot throughout the whole of September, and then for two week stints in both November and March of next year.
The first season of the original Brojects series, which is distributed by Blue Ant International, premiered in March, 2014. The show was also nominated for a Canadian Screen Award in the Best Picture Editing in a Reality/Competition Program or Series category. Season three of Brojects will bow on Cottage Life in Fall 2015.
Correction: An earlier version of this story indicated Brojects: In The House was the third season of Brojects. It is in fact a spinoff series, with season three of the original Brojects set to bow on Cottage Life in Fall 2015. Playback regrets the error.