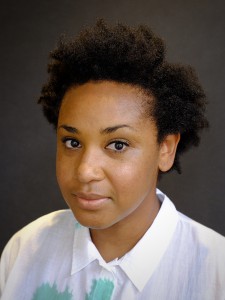 With a Warner Bros. blind script deal, a comedy pilot recently optioned by BET Networks and a feature film set for production next month, Canadian writer/director Stella Meghie isn't short on momentum.
Shuttling between New York, L.A. and Toronto, 2015 has been a game-changing year in the blossoming career of Meghie, who herself is no stranger to career game changes.
In 2010, more than five years into a fashion and beauty PR career in New York City, Meghie decided a change was in order. Feeling creatively dissatisfied and having missed all the deadlines for screenwriting Master's applications in NYC, she speculatively applied to three schools in London, England under a self-made pact: "if I get accepted, I'm just going to go."
The University of Westminster cooperated, and changed her fate. It was then, during her first year of school, that she penned the first draft of the semi-autobiographical feature Jean of the Joneses — a story about a dysfunctional all-female family of Canadian Jamaican women living in Brooklyn.
During Meghie's quest to get Jean made the feature has taken on a life of its own, winning the 2012 Showtime Tony Cox Feature Film Screenplay Competition, as well as earning Meghie a joint fellowship between Tribeca and Canadian Film Centre in 2014. The project speaks to her true passion as a writer, which is "telling stories from a young black female's point of view, which is not a lot out there," she says.
And while Jean's journey has been a slow-burning process, Meghie's writing career has not. Her blind script deal with Warner Bros was a result of having connected with WB development exec Aisha Summers, who passed Meghie's work up to Christopher Mack, VP, television workshop/current Warner Bros. Television. Mack was impressed and the pitch for the dark comedy was turned into a deal.
A few months later, Tamara Gregory, senior director, original programming, BET Networks, approached Meghie's manager, Adesuwa McCalla of MetaMorphic Entertainment, asking if she had any good comedy scripts to share. McCalla sent Meghie's Funny Woman – a rom-com about trying to remain friends with your ex while looking for new love – and BET Networks optioned the comedy pilot in May.
Meghie cites the CFC's support of her Jean of the Joneses script and the joint fellowship with Tribeca as a turning point in her professional life. That fellowship, a collaboration between the CFC and Tribeca Film Festival, allowed her to go to New York and L.A., which has introduced her to a crop of influential studio and network executives.
McCalla has been a key part of Meghie's transition to TV.
"Stella's voice as a writer lends itself exceptionally well within the indie market. But that part of the business is shrinking opportunities-wise. I felt there was a real space for her in TV," says McCalla.
Creatively, the writer/director believes her crucial breakthrough came during her month-long residency at the Nantucket Screenwriters Colony in 2012. "It made me realize to you have to be willing to cut deep, make changes, listen to the right people for advice and notes, and go at it full force," she says.
Jean of the Joneses producer Amos Adetuyi of Circle Blue Media praises Meghie's "infectious attention to detail," as a director as well as a writer, and said he was hooked on her work after reading an earlier project, You Ain't Hip To Baby, about an actress who begins an affair with a journalist a month before her wedding day.
"She doesn't want to leave any stone unturned," he says. "I see her as both a showrunner on a series, because she has that original spark, and as a director on the feature side – she's the most tenacious writer/director I've ever met and pursues every single angle. In five years, she's going to have a hard time deciding between the two," says Adetuyi.