First Generation Films launches TV division
The prodco, which has previously produced feature films such as Larysa Kondracki's The Whistleblower, will focus on scripted. (Company founder Christina Piovesan pictured.)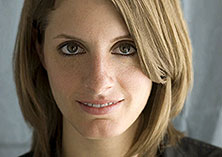 Christina Piovesan's First Generation Films (FGF) has launched a new scripted TV division, as well as adding two new board members, the company announced Wednesday.
FGF has previously focused on feature films – producing Larysa Kondracki's The Whistleblower and Anton Corbijn's Life – and will now expand its focus to developing multi-platform scripted content.
Peter Sussman and Kathryn From join as new board members at the Toronto-based company, which will continue to be headed up by managing director and founder Piovesan. Last week, it was announced Sussman was also joining the board for Our House Media.
Sussman was formerly a co-controlling shareholder of Alliance Atlantis and later went on to co-found Aver Media Finance, where he currently serves as managing director. From, meanwhile, is the founder of Wonderment Ventures, a company which specializes in providing financial support and advice to startup companies. She is also a member of the Toronto International Film Festival Group's Marketing Advisory Board.
A VP of the new TV division will be appointed in the near future, said a statement from FGF.
Image via Telefilm