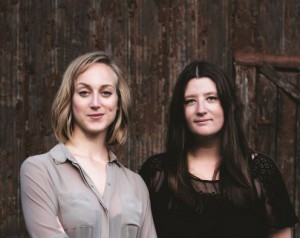 To say actress, writer and filmmaker Hannah Cheesman and producer and writer Mackenzie Donaldson have been on a hot streak since meeting and co-founding Aberrant Pictures in 2013 would be an understatement.
The pair met that year on the set of Whatever, Linda, a web series co-created by Cheesman and Canadian actor/writer Julian De Zotti and produced by Toronto's Secret Location and Touchpoint Films. Donaldson, a co-producer on Orphan Black, served as the series' executive producer, while Cheesman wrote and starred.
The two struck up an immediate friendship, buoyed by the success Linda would quickly achieve, its first 10-episode season earning a Screenie nomination and awards at web fests including the U.K.'s Raindance, Miami and Vancouver. In the midst of the Linda frenzy – chronicled in part by The Globe and Mail via a column penned by the duo – they formed a production company.
The goal, says Donaldson, was to create a home for projects close to their hearts – no matter how out-of-the-box the idea (hence the name: aberrant).
"The monetary goals for the company are in five and 10-year plans – right now it's to be a home for our goals and dreams," she explains.
Testing the waters of their budding partnership, Cheesman and Donaldson created the award-winning short Cheese. The five-minute comedy screened at festivals including Cannes in 2014, secured distribution in Japan, will air on the CBC this September and has won awards including the Bite Best Comedy Award at the 2015 NSI Online Short Film Festival. The pair are also co-executive producing Boxing, a BravoFACT short screening at TIFF this year.
Kevin Saffer, executive producer and founder of Toronto-based Touchpoint, says multi-faceted talent like that already demonstrated by the duo is tough to find.
"They are both driven individuals that have the talent to back it up," says Saffer, who has signed on to executive produce two more projects with the pair. "I think they're only just beginning their journey, when you talk about filmmakers they are the poster children."
Their fan base expanded even further this spring when they won one of three prizes in the AMP Accelerator pitch contest at the 2015 Banff World Media Festival. Presented by Shaftesbury and its digital division Smokebomb Entertainment, the contest offered content creators the chance for a development deal for a branded digital series powered by fan feedback. Aberrant took home the prize, meaning Cheesman and Donaldson have a five-episode development deal with Smokebomb and help seeking brand partners to produce a 36-episode season.
Cheesman said that process was a whirlwind for the pair and gave them the opportunity to test their partnership.
"In Banff it was a real test in trusting each other because we only had about two hours to practice the pitch," she says. "We had to know that we would catch each other's blind spots. If you're in concert with one another, you do the work that needs to be done in as short a timeline as possible."
"They are doers, not people who just talk about doing things," Jay Bennett, VP of digital and creative director at Smokebomb, says. "Their [pitch] concept was very contemporary and niche. Although those sound like buzzwords, those are things we are trying to get with digital content. They understand television and digital, and how to tell a story for different platforms. A lot of people still pitch us TV shows for YouTube, and that's not how it works, you need projects for each platform."
It's a strategy Aberrant apparently has no trouble heeding. The company's web and shorts projects are now being extended to a low-budget feature with The Definites. The $75,000 drama shot in Miami earlier this year and will conclude in Toronto this winter. It is being financed privately.
And The Globe and Mail gig led to more than just exposure for Linda. It garnered the attention of author Susan Swan, who contacted them to help produce a feature version of her book The Western Light. Cheesman and Donaldson have reached out to their friend, fellow producer Lauren Grant of Clique Pictures, to help them develop the novel into a feature.
Cheesman and Donaldson attribute the momentum they have seen over the past two years back to the success of Linda, which became a calling card, and Cheese hitting the festival circuit around the same time.
"And then there's luck, which is the ineffable thing," says Cheesman. "And being two young women, I don't think it's a stretch to say people are interested and affording different points of views the chance to take the stage these days. That's a lucky thing."
After a year of accolades, Cheesman and Donaldson say the next twelve months will likely be quieter, as the pair goes underground to work on pipeline projects.
"It's an interesting moment for the two of us, because I feel like we're on a precipice looking over the edge, and it will be interesting to look back at this moment in a couple years' time," says Cheesman.