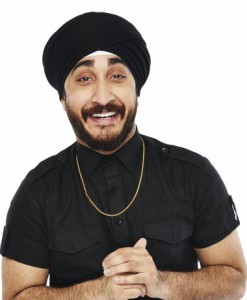 Initially, Jasmeet Singh made YouTube videos to avoid his biomed homework.
"I had originally wanted to go to film school, and my parents were like, 'uh, no — that's not how you pronounce, 'I want to be a doctor,'" Singh said. So, Singh found himself taking biomedical sciences summer courses at the University of Guelph and hating every minute of it. He started watching internet videos in lieu of doing his assignments, and soon started making his own online comedy about growing up South Asian in Canada.
Roughly six years later, Singh's procrastination has definitely paid off.
The 25-year-old Guelph, ON native is now better known to the internet masses as JusReign. His YouTube channel by the same name has over half a million subscribers and his social media channels log 1.1 million fans on Facebook, 1.2 million followers on Vine, 174,000 on Twitter and 268,000 on Instagram.
His Snapchat stories are among the most-viewed of any user in Canada, averaging between 175,000 to 190,000 views, and he recently was featured in YouTube FanFest events in Toronto and Mumbai. With a deal recently inked with Much Digital Studios, Much Music's new MCN, Singh stands to increase his reach even further.
"He's a huge talent, and we think his star is only going to grow. We're doing our best to help that along by using our loud voice to amplify him," says Justin Stockman, VP specialty channels, Bell Media.
"We put him on [as red-carpet host for] the MuchMusic Video Awards and we are working with him on a couple of other projects that will hopefully make him an even bigger name," he adds, keeping his cards close to his chest on what those "other projects" might be.
Singh's early videos showcased the everyday quirks and cultural norms within Canada's South Asian community such as family life — Desi Parents and Money is one of his most-viewed videos. The content went viral within the South Asian community, which Singh credits to the lack of comedic voices covering similar topics.
"There was no one really doing it in the South Asian community, so all this content was fresh and new and people had never seen it before," Singh said. "I think that's one of the reasons why [the videos] propelled."
Like any good businessman, however, Singh knows diversification is the key to success. He quickly branched out from South Asian-only comedy and into a broader realm. Like, Shit White Guys Say to Brown Guys, in which Singh and friends re-enact questions he faced growing up, including "does the colour of your turban represent your mood, or something?"
"That was one of the videos that kind of set it off. Whether it'd be South Asians being like 'we get those questions too!' or non-South Asians being like 'oh God, we ask those questions all the time!'" Singh said.
Singh also manages a range of JusReign merchandise and released a number of singles and albums of his comedy work. He recently appeared in the Bollywood film 22G Tusi Ghaint Ho, which starred one of India's biggest Punjabi comedians Bhangwant Mann. He is also starring in an election-focused web series called Dhaliwal '15, which will run until the federal election in October and is working on a TV pilot with some fellow comedians.
Singh points to hosting the red carpet show at the MMVAs as a watershed moment — that day, he tweeted "2015 – the year a dude with a turban co-hosted the red carpet of Canada's biggest music award show on national tv. still feels unreal" — but says he still feels he faces an uphill climb in the entertainment industry.
"[I have] an image that is still kind of threatening to a lot of people, especially living in a post-9/11 world where brown skin or a turban is associated with a lot of negative," Singh says. "I knew I would have to work — and still have to work — 10 times harder than your average blond-haired, blue-eyed, chiseled, six-foot-tall dude. I know I have to work 10 times harder than that guy to get to the exact same point he would be at."