TVO, City Saskatchewan prep Quizzine
Cheshire Cat producer Tim Tyler on how the Saskatoon company picked up the French format and why Creative Sask's grant programs work well for interstitials.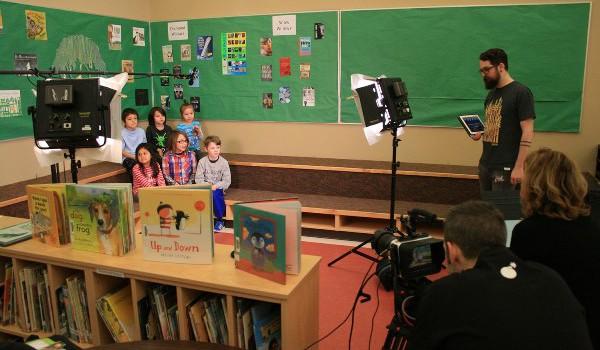 City Saskatchewan and TVOKids have picked up Cheshire Smile's interstitial series Quizzine, an English-language adaptation of a French format of the same name.
Cheshire Smile and series producer Tim Tyler was first introduced to the original France-produced Quizzine series by Bejuba! Entertainment, a production and distribution company both Cheshire Smile and series creator Jean de Vivie had worked with in the past.
Bejuba!'s execs thought an English-language adaptation of the series would be well-suited for Cheshire Smile since the prodco had previously produced kids shows promoting healthy lifestyles, such as Space Stretch. Quizzine aims to get kids ages three to six excited about healthy food, where real students in schools are given clues describing fruits or vegetables, and are rewarded with a snack when they guess correctly.
Parker said he immediately thought the series and its interstitial, 20 x 2 minute format would be a good for City Saskatchewan. The channel was formerly Saskatchewan Communication Network before it switched over to the City brand in 2012, and as such, still has an educational component to its license.
"They are always looking for educational shows that can fit into their preschool lineup. So with the educational, health and food focus, it seemed like a natural fit," Tyler said, adding that the lower-budget nature of the show – which came in around $135,000 – was also appealing to City. Bejuba! had previously approached TVO about the series, and they also expressed interest in backing the English-language version.
Financing for the Saskatoon-shot series came from Rogers Media, TVO, the Canada Media Fund, the Bell Fund and Creative Saskatchewan. While Creative Saskatchewan's grant-based funding system is difficult for larger-scale productions, it does work well for smaller series like Quizzine, Tyler said. Under the new system, much of the money comes once the series gets a greenlight, Tyler said. With tax credits, producers would have to wait 18 to 20 months before they saw any money.
"For small shows, where there is not as much cost, it's actually a good thing because you don't have to worry about financing those tax credits costs," Parker said.
Quizzine also features a digital media component, where kids can find out more about the food featured in the show. The first series is produced by Cheshire Smile in partnership with Bejuba! Entertainment and Image-in Entertainment, which produced the original French series.