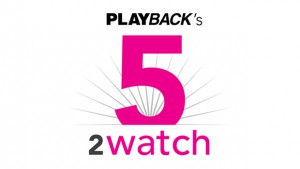 Playback is pleased to announce 2015′s 5 to Watch, our annual list of Canada's hottest up-and-coming talent from all corners of the industry.
With nominations reaching an all-time high this year – numbering 300 in total – narrowing it down to just five (well, six) names was our biggest challenge yet. But we think you'll agree these four individuals and one team are poised for great things to come.
Read more on our five every day in the newsletter, starting tomorrow through next Friday. For now, here's a taste:
Jasmeet "JusReign" Singh: The 25-year-old Guelph, ON native is known to the internet masses as JusReign, with a YouTube channel with over half a million subscribers, 1.1 million followers on Facebook and 268,000 on Instagram. With a deal recently inked with Bell Media's Much Digital Studios – and a possible new project in the works at the broadcaster – Singh is poised for a cross-platform break-out.
Aberrant Pictures' Hannah Cheesman and Mackenzie Donaldson: Actor, writer and filmmaer Hannah Cheesman and producer and writer Mackenzie Donaldson have been on a hot streak since meeting and co-founding their production company in 2013. From their collaboration on web series Whatever, Linda to winning Smokebomb Entertainment's AMP Accelerator Pitch contest at Banff this year, you'll next see them at TIFF with their short Boxing.
Stella Meghie: With a Warner Bros. blind script deal, a comedy pilot recently optioned by BET Networks and a feature film set for production next month, Stella Meghie has no shortage of momentum. 2015 has been a breakthrough year for the Canadian writer/director as she continues to pursue her passion of telling unique stories "from a young black female's point of view."
Giacomo Gianniotti: Just three short years into his career, Gianniotti has landed a number of roles on Canadian productions and was recently cast in Grey's Anatomy after catching the eye of mega-showrunner Shonda Rhimes. He'll soon debut on the big screen in Stephen Hopkins' Race.
Daniel Birnbaum: At 26, agent Daniel Birnbaum already heads up two divisions at Toronto-based agency The Talent House and has not only landed his clients lead roles on some of Canada's hottest series, such as Dark Matter, Annedroids, 19-2 and Between, but has successfully crossed clients over from stage to screen.
Playback's 5 to Watch is presented is association with the Canadian Film Centre. The nominations are narrowed down through a series of voting rounds including Playback's editorial team, Media in Canada associate editor Val Maloney, Kidscreen editor and content director Lana Castleman and an advisory board, which includes Prem Gill, Martin Katz, Kathryn Emslie, Tara Ellis, Marguerite Pigott, Jesse Prupas, Sally Catto and Neisha Ali.