Deals: Space, Mongrel, Nelvana, DHX
Space picks up the intergalactic drama The Expanse (pictured), and more deals of the week.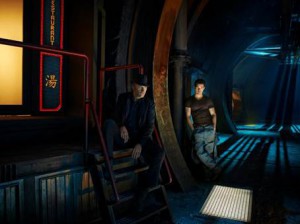 Space
The Expanse, an intergalactic drama produced by L.A.-based Alcon Television Group, has been acquired by Bell Media's Space. The first two episodes of the 10 x 60-minute series will air on Dec. 14 and Dec. 15, before moving permanently to Tuesdays at 10 p.m. the following week. The showrunner on the series is Naren Shankar (CSI, Farscape), who also serves as executive producer alongside the show's screenwriting team of Mark Fergus and Hawk Ostby (Iron Man). The show is based on a book of the same name by Daniel Abraham and Ty Franck. The show stars Thomas Jane (Hung) and Steven Strait (Magic City) and is distributed globally by Legendary Television Distribution.
Mongrel International
Mongrel International announced it will be handling world sales for Jungle Book Entertainment and One Two Films' Angry Indian Goddess. The Pan Nalin-directed film, which stars Sarah Jane Dias, Rajshri Deshpande, Sandhya Mridul and Amrit Maghera will screen in the Special Presentation program at TIFF '15.
Nelvana
Corus Entertainment's Nelvana has secured additional licencing partners for its preschool series Little Charmers. MediBadge (stickers and sticker sets made for medical and financial institutions), Jacmel Jewelry (jewelry), Stoneridge Cycle (protective gear for bicycles, scooters, skateboards and inline skates), Pamson Pacific Enterprises (outdoor seasonal toys), Primary Colors Corporation (cookies, fruit snacks and stationery items) and The Tin Box Company (decorative tin and tin storage) have all come aboard as licencing partners for the series' toy collection. Toronto's Spin Master is the master toy partner for Little Charmers, and is set to launch a mass retail line this summer that includes mini figurines, plush and dolls for kids aged two to five.

DHX Media
CBeebies-commissioned preschool series Twirlywoos has been sold by DHX Media to six global broadcasters. Read more about the deal here.
Soda Pictures
Thunderbird Films-owned distributor Soda Pictures has announced the acquisition of Ben Wheatley's High-Rise (UK) and Alice Winocour's Disorder (France/Belgium) ahead of next month's TIFF. Read more about the story here.