Coming Soon: Backcountry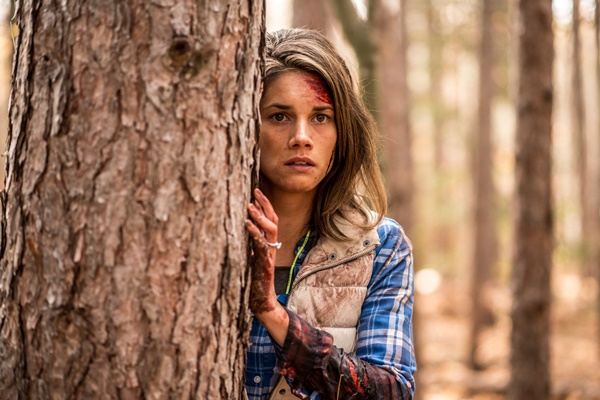 D Films' Michael Robson on his distribution strategy for Backcountry and its potential for screens and audiences in Canada's more remote communities.
Coming Soon, an ongoing editorial feature from Playback, highlights distribution strategies for soon-to-be released Canadian films. Here, we speak to D Films VP marketing and development Michael Robson about his distribution strategy for Backcountry. 
The film: Backcountry follows the story of a couple – one a seasoned outdoorsman, the other not – who venture deep into a provincial park to explore the Blackfoot Trail, only to get desperately lost in bear country and potentially followed by a potentially unhinged stranger. Backcountry stars Missy Peregrym, Jeff Roop, Eric Balfour and Nicholas Campbell.
Production/distribution credits: Backcountry was written and directed by Adam MacDonald and produced by Fella Films, with Thomas Michael serving as producer. D Films holds the Canadian distribution rights for the film across all platforms, which IFC Midnight has the U.S. theatrical rights to Backcountry.
Theatrical: Backcountry will open on Aug. 28 in 12 theatres across Canada, including six Cineplex theatres in Toronto and other Cineplex theatres in Montreal, Edmonton and Calgary. The film will also open at Cineplex theatres in Vancouver, Langley and Richmond, B.C. Backcountry will also screen at some independent theatres, including the Astro Theatre in Nunavut starting Sept 4.
The Astro theatre reached out to D Films to see if they could pick up Backcountry, said Michael Robson, VP marketing and development at D Films, which prompted the distributor to explore other opportunities for the film in northern markets. "The film is based in the wilderness, so it might appeals to those type of (more remote) communities," Robson told Playback Daily. As such, D Films will do a special screening next week in North Bay of the film, and will continue to book additional northern theatres as opportunities arise, Robson said.
Marketing: Overall, D Films decided to focus on digital advertising to maximize efficiency, Robson said, with plans to expand the films' digital ad footprint as the film moves into additional theatres and markets. Ahead of the Backcountry's theatrical release, D Films partnered with horror publication and website Rue Morgue for ticket giveaways and contests, along with digital ad buys showcased on the site. The film will also be promoted on various social media channels associated with the film, along with advertising on Facebook and YouTube pre-roll ads. Ronson noted he finds that pre-roll ads featuring film content tend to better engage viewers than those promoting a product, Robson said: "People tend to respond to the film stuff."
Additional windows: With a Cineplex release locked down, Backcountry will ride out the 90-day theatrical window before it heads to various VOD platforms. Down the line, a Blu-ray and DVD release is planned. "I think this one deserves it. It's Adam's first film and it's a really well-realized film and I think his next film will be even better," Robson said.
He points to Monsters, a film from Godzilla director Gareth Edwards, as one that is similar to Backcountry and continues to sell well on DVD. "I put Backcountry in the same sort of realm as [Monsters] – a really good film that will continue to exist. Otherwise we wouldn't do hard goods, because it's expensive," Robson said.
Target audience: "Before we saw it, it would be a straight-up genre film targeting the 16-to-24 year old female and 18-plus male [demos]. That said, after we saw the film, we moved that back to our secondary demo, our primary [now] being 25-to-49 female," Robson said. "It's a bit more sophisticated than what it seems on the surface…I think the people who will respond to it more are the slightly older female (demo)."
What makes this film unique? "In the test screenings we've done, people have said it's like Jaws in the woods, so it has that element of man vs. nature," Robson said of what makes the film stand out. Backcountry is what he would characterize as a smart genre film, Robson said, and features a solid vision from the director as well as strong performances from Missy Peregrym and Jeff Roop.
Budget/financing: The budget for Backcountry was approximately $1.2 million, and received financing from Telefilm Canada and the Northern Ontario Heritage Fund.