The Nations set for CBC Punchline
Producers iThentic and New Zealand's thedownlowconcept have big plans for the multi-platform comedy/reality series. (Hosts Jarred Christmas, left, and Sean Cullen pictured.)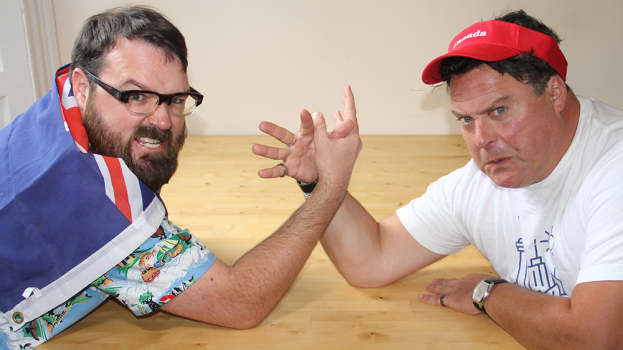 The Nations, a multi-platform digital comedy/reality series produced by Toronto's iThentic and Auckland, New Zealand's thedownlowconcept, will premiere on CBC Punchline this fall.
The 10 x 5-minute series, hosted by comedians Seán Cullen and Jarred Christmas (of Canada and New Zealand, respectively), is airing digitally in New Zealand on TVNZ as well.
The project came out of the Canada-New Zealand Digital Media Fund, a coproduction fund established earlier this year between the CMF and New Zealand funding body NZ On Air. The Nations is one of three projects to have received financing via this fund. Financing for the project also came from TV New Zealand, CBC, iThentic and thedownlowconcept.
The video episodes will see the comedians partaking in weird and wild contests to decide which nation is superior, with production beginning in Toronto on Sept. 3 and shifting to Auckland on Sept. 12. The direction of the video series will be heavily influenced by user engagement, with some of the show's production taking place in locations and settings suggested by users through social media.
As well as the video episodes, The Nations website launched last week where users can take quizzes on topics such as pop culture, history, geography and wildlife that are specific to Canada and New Zealand. Users of the website will also be able to submit challenge and contest ideas and tweet or post trivia questions to the comedians.
Lisa Baylin, VP content, iThentic, said the project is a natural progression for the company. "We've been doing a lot of productions in scripted, and this is a way for us to blend our storytelling skills and take it into a new arena – that being reality lifestyle. So I think it's a very natural fit."
Baylin added that iThentic and thedownlowconcept see global potential for the series. "Our goal is to be a format, and we call this round one – that's in our eyesight. We'd love to either keep it as a digital property or extend it on to traditional, if there's a possibility for a broadcaster to take it on, or a brand, and take it to the next level."