Coming Soon: Turbo Kid
Raven Banner's Andrew Hunt on the releasing strategy for the Canada/New Zealand copro, which will be backed by the indie distributor's biggest marketing campaign to date.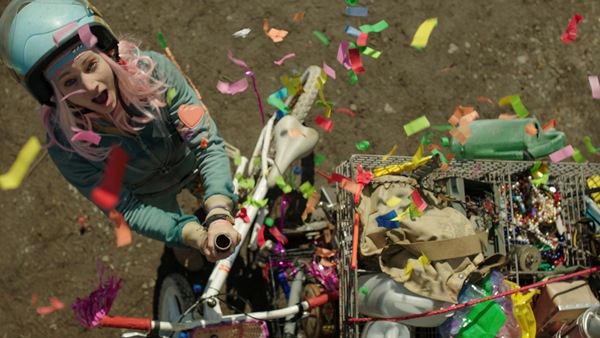 Coming Soon, an ongoing editorial feature from Playback, highlights distribution strategies for soon-to-be released Canadian films. Here, we speak to Raven Banner Entertainment's Andrew Hunt about the distribution strategy for the Canada-New Zealand copro Turbo Kid. 
The film: The post-apocalyptic Turbo Kid follows the story of The Kid, a solitary scavenger obsessed with comic books, who is forced to face his fears and becomes a reluctant hero after he meets a girl named Apple. Turbo Kid stars Munro Chambers, Laurence Lebeouf, Aaron Jeffery and Michael Ironside.
Production/distribution credits: Turbo Kid was written and directed by Francois Simard, Anouk Whissell and Yoann-Karl Whissel, who make up the Montreal collective Roadkill Superstar. Anne-Marie Gélinas, Benoît Beaulieu, Ant Timpson and Tim Riley serve as producers on Turbo Kid, which is a Canada/New Zealand coprodcution. Production companies attached to the feature are EMA Films, Epic Pictures Group and Timpson Films. Raven Banner Entertainment holds the Canadian rights (outside Quebec) across all platforms to Turbo Kid. Filmoption International is distributing the film in Quebec and Epic Pictures Releasing holds the U.S. rights.
Theatrical distribution: Turbo Kid will be released on Aug. 27 in eight Cineplex theatres as part of Raven Banner's Sinister Cinema series, where it will bow at one-night only event screenings in Toronto, Vancouver, Ottawa, Hamilton, Edmonton, Calgary and Winnipeg. Starting Aug. 28, the film will also have a week-long run at Cineplex's Yonge & Dundas theatre and the Carlton Cinema in Toronto, and at the Cineplex Park Lane theatre in Halifax. Turbo Kid will also get a limited engagement run at Ottawa's Mayfair Theatre, Waterloo's Princess Theatre, Edmonton's Metro Theatre, Vancouver's Rio Theatre and Kitchener's Apollo Theatre. Raven Banner is going day-and-date with Turbo Kid, and will release the film on various digital platforms on Aug. 28.
"In this market, going day-and-date with theatrical and VOD, it's allowing us to do a concentrated marketing push that will be effective [for] both platforms where we are releasing the film. We don't have to spend the money now and more down the road," Andrew Hunt, managing director with Raven Banner Entertainment, told Playback Daily.
Marketing: Raven Banner is putting its biggest marketing effort to date behind Turbo Kid, including extensive postering, traditional ad buys and social media promotion. The distributor has hired Grassroots Advertising to spearhead large-scale postering efforts, such as placing large posters on hoarding around construction sites, in all eight of the cities the film is opening in, with a stronger emphasis on Toronto, Halifax and Vancouver. Raven Banner has also hired the Pink Mafia street team to hand out flyers to promote the film and do smaller-scale postering, such as placing the poster in cafes or comic book stores.
"We have a very arresting poster. For any fan of that genre, it's really going to grab their attention," Hunt said.
Along with the poster campaign, Raven Banner also did a TV ad buy with Bell Media's Space specialty channel, where a condensed 15-second version of the trailer will run on the channel leading up to Turbo Kid's release. Raven Banner also bought radio ad space on Indie88, with digital ads and the trailer to be showcased on the station's website. Two actors from Turbo Kid will be featured on the Indie88 morning show, and the station will be doing ticket giveaways through their Superfriends loyalty program.
"We are really focusing on what we think is the main demographic for this film, which is people who are into alternative music, alternative pop culture – the people you would find at Fan Expo or watch Space on a regular basis," Hunt said.
Additional windows: Turbo Kid will be available on various digital and VOD platforms on Aug. 28, including Vimeo and Shaw Media, Bell Media and Rogers Media on-demand channels. The film will also be released on iTunes at a later date with exclusive extra content, such as a making-of segment and the original T is for Turbo short. Raven Banner is also doing a DVD and Blu-ray release for Turbo Kid, which will likely be available around Christmas.
What makes this film unique? "This film just has a hell of a lot of heart, I think is the best way to say it," Hunt said. "This was a 10-plus year dream (for the filmmakers) to realize this film and you can see how lovingly crafted it is. It wears its heart on its sleeve, it's not obnoxious, it doesn't overstay its welcome…it's just a great little film for people who enjoy this style of film."
Budget/financing: The Canada/New Zealand copro was shot on a budget of under $2 million, with Telefilm supporting the project via its Canada Feature Film Fund.