Coming Soon: Bang Bang Baby
Search Engine Films' Jason Wright on his distribution strategy for the 1960s-set sci-fi/musical mashup, which includes an event to showcase the film's VR trailer.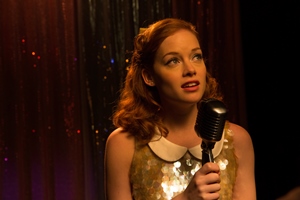 The film: Bang Bang Baby is a 1960s-set, musical/sci-fi mashup about a teenager named Stephh who wants to become a famous singer, and starts to think her dreams will come true after her rock star idol gets stranded in her small town. A leak at a nearby chemical plant, however, has started to turn the locals in mutants. Bang Bang Baby stars Jane Levy, Justin Chatwin and Peter Stormare. It won the Best Canadian First Feature prize at the 2014 Toronto International Film Festival, where it has its world premiere. Director Jeffery St. Jules also won the Academy of Canadian Cinema and Television's 2015 Claude Jutra Award for his work on the film. The Claude Jutra Award recognizes an outstanding debut from a first-time filmmaker.
Production/distribution credits: Bang Bang Baby is the feature directorial debut from  St. Jules, with Scythia Films producing. The film was produced by Daniel Bekerman, Jonathan Bronfman and Don Allen. Search Engine Films is handling the distribution of Bang Bang Baby across all platforms in Canada. Random Media has the U.S. rights to Bang Bang Baby.
Theatrical: The film is opening on Aug. 21, and will screen in Toronto, Montreal and Vancouver. Bang Bang Baby will appear at Cineplex's The Varsity in Toronto and the Forum in Montreal, with the Vancouver theatre yet to be confirmed as of press time. While Search Engine would like to take Bang Bang Baby to a wide range of markets, the goal was to open it at theatres in larger urban centres like The Varsity that tend to screen films with a unique twist, said Jason Wright, VP marketing and operations at Search Engine Films.
"Generally with those types of films, you want to put it where the largest possible audience will enjoy it and find it theatrically," Wright told Playback Daily.
Search Engine decided to forego a day-and-date release with Bang Bang Baby, as it did with Guidance. Wright noted the style of Bang Bang Baby means it is a film best experienced in a theatrical environment, and the hope is that more exhibitors may be interested in picking it up depending on how well it performs at the first three theatres, Wright said.
"Our hope is with a platform release like this is if it's performing well and audiences like it, our hope is to take it into…other theatres in those markets and across the country," Wright said.
Marketing:  Search Engine will primarily rely on social media and YouTube pre-roll ads to promote the film. The distributors will also be doing a smaller print ad buy, as Bang Bang Baby would also appeal to a demographic that still regularly reads print publications, Wright said.
In addition, producer Scythia Films partnered with digital media producer Pinnguaq to create an 360-degree virtual reality trailer for Bang Bang Baby. Users can view the trailer via an Oculus Rift headset as well as on smartphones or iPads. On Tuesday, Aug. 18, the distributor will be running an event at the Cineplex Yonge-Dundas theatre where passersby can use VR headsets to view the trailer.
"It's not often you see something that is actually different…you can see the potential of where it could be in a few years, in terms of the movie trailer experience. It's very cool," Wright said.
Overall, Wright said the company also focused on ensuring marketing materials for Bang Bang Baby, such as the poster, clearly demonstrated the film's off-beat nature.
"The poster is a really cool, retro-throwback poster – we put a lot of effort into developing the marketing material in a way that once we can push them out to people and they can see them, they will know this is not your typical movie," Wright said.
Target audience: "It's kind of a weird one. It spans so many different spectrums that our target demo is really varied," Wright said, adding the distributor is not targeting any one specific age group for the film. Rather, the target demos are more interests-focused. "We think there is an audience that likes musicals and is a little bit older that can rediscover this musical; we think there is an audience that is a fanboy audience that might just like to discover something that is unique and original," Wright said.
What makes this film unique? "I can honestly say this is one of the most unique films I have ever seen, full-stop. There is not one thing that makes it unique," Wright said. "It's one of those films where it has humour in it, it has the musical elements in it, it has this really unique visual pallet to it, it has good performances…it's got all kinds of things that make it an original piece of work."
Budget/financing: The budget for the film was in the range of $1 to $2 million. Bang Bang Baby received financing from Telefilm Canada, the Harold Greenberg Fund, private investments and tax credits.