YTV preps Make It Pop debut
Original songs from Make It Pop will be released on iTunes and other musical platforms later this month ahead of its Sept. 9 debut on YTV.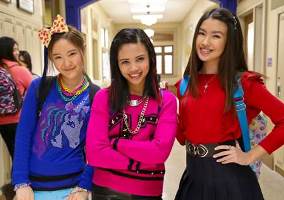 Corus Entertainment has set a debut date for the DHX Media series Make It Pop, with original songs from the series to be made available for download ahead of its premiere.
Make It Pop is a tween-skewing sitcom about three girls who form a K Pop-inspired group after they are chosen to room together at a boarding school. Each episode of Make It Pop will include original songs and performances, with the music to be released on iTunes and other digital music services in Canada later this month before the series bows on YTV on Sept. 9. The series will premiere with two back-to-back episodes at 7 p.m. on Sept. 9.
The series made its debut on Nickelodeon in the U.S. on April. 6. The first few episodes of the series did so well it prompted the kids net to make an early order for the second season of the show. A similar original music release strategy was also used to promote the series in the U.S.
The series was co-created by Thomas W. Lynch and pop star Nick Cannon, who also serve as executive producers. Steven DeNure and Anne Loi are executive producers for DHX Media. Global distribution and brand management will be handled by DHX Media, with merchandising and licensing being done through appointed agency Copyright Promotions Licensing Group. The first season of the series was shot at DHX's Epitome Studio in Toronto.