Temple Street's Evolve huddles with Rugby Canada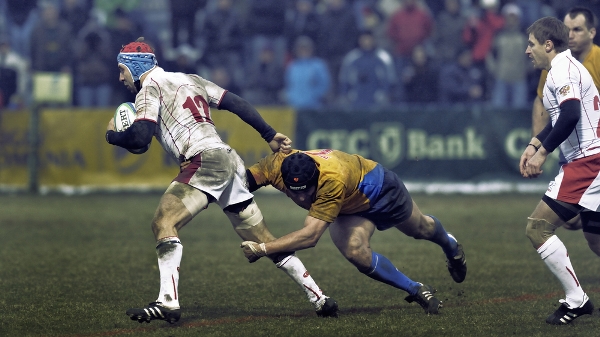 Temple Street Media Ventures VP Michel Pratte on how the deal fits into the company's strategy to market Evolve as more than just a fitness brand.
Temple Street Media Ventures' has inked a deal with Rugby Canada to make its Evolve Functional Fitness app the official fitness partner of the national sport organization.
The agreement will see Rugby Canada offer all of its registered members complimentary access to an Evolve digital fitness membership for the 2015 season. Evolve, which can be accessed on any computer or digital device, offers workout programs, nutritional information and a social network for users. The subscription free for Evolve is currently set for $7.99 a month.
As part of the partnership with Rugby Canada, Temple Street Media Ventures will also produce content for social media as well as specific rugby workout videos. Michel Pratte, VP of Temple Street Media Ventures, said a partnership between Rugby Canada fit into the company's overall strategy for the app as there is a community and connection around rugby that goes beyond the field.
"We see it as a tool and a platform to try to get…people motivated to exercise, but it's also creating ancillary content around it that gets communities like the rugby community excited," Pratte told Playback Daily.  For example, a video from Evolve about the spirit of rugby posted to Rugby Canada's Facebook page gained over 100,000 impressions within the first 24 hours, Pratte said, and currently has over 2,400 shares.
The built-in community around rugby in Canada also helps Temple Street execute its strategy to build Evolve as larger media brand, rather than a program laser-focused on individual fitness, Pratte said.
"There is a reason why when you look at the (Evolve) content we focused on creating quality and why we didn't just want to do fitness videos. We wanted to do more engaged, more inspirational videos so it would be seen more as a media brand rather than a pure fitness brand," Pratte said.
The partnership also capitalizes on the buzz in the community ahead of the 2015 Rugby World Cup to be held in England from Sept. 18 to Oct. 31. For example, Evolve did an activation at a recent Canada vs. Samoa rugby game at BMO Field, playing one of their videos on a digital billboard at the venue.
Photo credit: PhotoStock10 / Shutterstock.com
Correction (Aug. 14): This article originally incorrectly listed Michael Pratte's title as SVP; it is in fact VP.