HGTV Canada greenlights two original series
The two new series from Si Entertainment and Scott McGillivray's new shingle are set to bow on the Shaw Media specialty in fall 2016. (Bryan Inc. pictured.)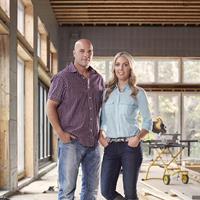 HGTV Canada has commissioned two new original series starring celebrity contractors Scott McGillivray and Bryan Baeumler.
Both McGillivray and Baeumler host other series currently on the Shaw Media specialty's lineup: McGillivray on the long-running Income Property and Baeumler on House of Bryan and Leave it to Bryan. The newly commissioned series are meant to give viewers a closer look at the professional and personal lives of the contractors.
Production is currently underway on Moving the McGillivrays and Bryan Inc. (both working titles), and are currently set for a fall 2016 bow. Bryan Inc. (13 x 60 minutes) takes a closer look at Baeumler and his wife Sarah's efforts to balance their home life and four active kids while they buy, renovate and sell homes for profit. The series is produced by Si Entertainment, which also produces House of Bryan and Leave it to Bryan.
Moving the McGillivrays (10 x 60 minutes) is produced by the host's newly launched production company, McGillivray Entertainment. The series follows McGillivray and his wife Sabrina as they work on building their own dream home as well as a home for a family in need.
HGTV Canada also announced it had picked up an Income Property spin-off, Income Property: On Vacation (working title). The series, which will also air stateside on HGTV U.S., sees McGillivray guide the owners of holiday homes through the vacation property rental market. Income Property: On Vacation is produced by SKIT Media, which also produces Income Property. All three projects are produced in association with Shaw Media.
Sponsorship opportunities are currently available on the series, Shaw Media said in a release.