CFC names Actors Conservatory participants
Gia Sandhu (Beeba Boys), and Varun Saranga (The Best Laid Plans) are among eight actors chosen to participate in the CFC's residency.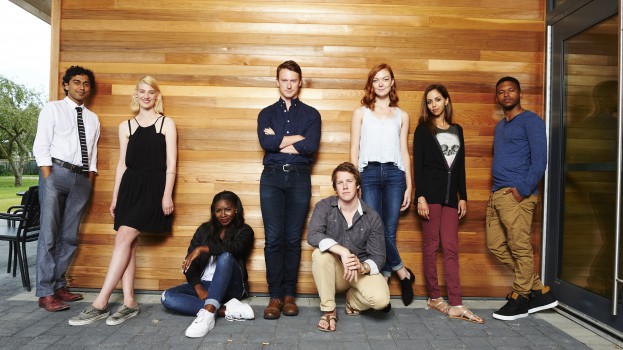 The CFC has announced the group of eight actors to participate in its seventh annual Actors Conservatory residency.
The 2015 program will feature Bruce Novakowski (Mop King), Emily Coutts (Crimson Peak, Murdoch Mysteries), Gia Sandhu (Beeba Boys, The Moth Diaries), Grace Glowicki (Lady, Be Good, Nightrunners), Jess Lavercombe (The Sixpack Theory, Longhand), Lovell Adams-Gray (The Next Step Aftershow, Rogue), Varun Saranga (The Best Laid Plans, Lucky 7) and Zahra Bentham (Guidance, Cracked).
Over the course of six months, residents will further their creative storytelling and collaborative skillsets through the CFC's full-time program, as well as building industry connections and developing strategic approaches to career success within the industry.  
The program is supported by the Brian Linehan Charitable Foundation and the RBC Emerging Artists Project.
Pictured from left to right: Varun Saranga, Grace Glowicki, Zahra Bentham, Jesse LaVercombe, Bruce Novakowski, Emily Coutts, Gia Sandhu, and Lovell Adams-Gray.